It became known when Parliament will consider the removal of inviolability from Novinsky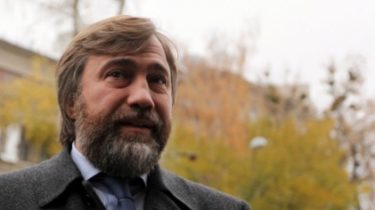 It became known when Parliament will consider the removal of inviolability from Novinsky
© UNIAN
Regulation Committee brought the issue up for discussion.
The procedural Committee of the Ukrainian Parliament made a decision on the Deputy Vadim Novinsky.
This is stated in the Twitter of the Verkhovna Rada.
Parliament will discuss the lifting of his immunity on Thursday, December 8.
Regulation Committee issued a decision against the MP Vadim Novinsky. #Рада8 will consider lifting the immunity this Thursday!
— The Verkhovna Rada (@verkhovna_rada) 6 December 2016
See also: "s*ka non-Orthodox". Lutsenko's lawyer swore at Novinsky
As previously reported, December 6, the procedural Committee of the Verkhovna Rada adopted the decision to send in the hall of the Parliament performance of the GPU on the involvement of the people's Deputy Vadim Novinsky to the criminal case.
Previously, according to Prosecutor General Yury Lutsenko, the regulation Committee did not want to miss the view to the vote, demanding to disclose the case file. The Samopomich faction sabotaged the work, demanding a vote for the deprivation Novinsky immunity.
Vadim Novinsky is on the case of illegal detention of the assistant to the now deceased Metropolitan of the UOC-MP Vladimir Alexander drabinko. According to investigators, Novinsky was a co-organizer of abductions for the change of leadership of the Ukrainian Orthodox Church of the Moscow Patriarchate 2013.
Novinsky, Klinchayev, Ephraim, – the public Prosecutor told what to expect in high-profile cases
Policy
2 Dec, 01:47
Add to favourites
The General Prosecutor of Ukraine Yury Lutsenko reported as making good on his promise to bring MPs to justice for treason.
Comments
comments