Kerry urged NATO to unity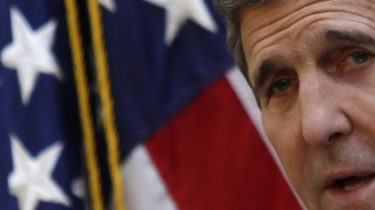 Kerry urged NATO to unity
© Reuters
He stressed that unity "is very, very important."
U.S. Secretary of state John Kerry believes that the members of the Alliance today needs to focus on the unity and continue to work together to achieve common goals.
About it reports UKRINFORM.
"The real today is the effort to ensure that every confirmed, how important is NATO, relations within the Alliance, and how necessary for us to be together, to make sure that there is a strong Europe, a strong Alliance and the values and interests that we all share, and we continue to work together," said U.S. Secretary of state. He stressed that unity "is very, very important."
Read also: Situation in Eastern Ukraine remains extremely serious – NATO Secretary General
Earlier, the objects of NATOthat threatens Russia, will become targets for missile strikes, said the President of the Russian Federation Vladimir Putin.
"We have to take countermeasures, that is to jeopardize our missiles on the objects that, in our opinion, begin to threaten us. The situation is annoying," said Putin.
Comments
comments