The musicians gave a concert on the "zero" position under the noses of the militants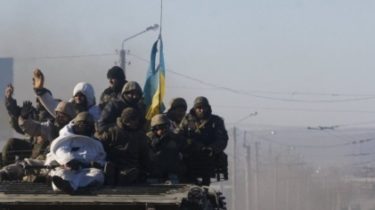 The musicians gave a concert on the "zero" position under the noses of the militants
© UNIAN
The festive mood was provided to the soldiers of the 54th brigade.
Near the village of Lugansk in the Donetsk region the Armed forces day of Ukraine was celebrated to the accompaniment of artillery "fireworks" from the militants. The shelling did not spoil the festive mood of the defenders of the native land, according to a story TSN.19:30.
The soldiers of the 54th brigade, which for almost a year protects the position on the arc Svetlodarsk under the command of the legendary cyborg "Dome", decided to make a musical pause. "The brigade commander sent us musicians," announced the commander, having collected soldiers. Therefore, the most advanced holiday celebrated with a concert.
Ukrainian military marked the anniversary of the APU, despite the attacks of militants
TSN. 19:30
Yesterday, 21:53
Add to favourites
Despite the constant attacks and outfits, a holiday is a holiday. The glorious fighters of the 54th brigade, which for almost a year protects the position on the arc Svetlodarsk decided to make a musical pause in this war. But the celebration quickly ends, at the front, because the terrorists began to welcome Ukrainian soldiers since yesterday.
However, the celebration was not long lasting. In December it gets dark quickly – accordingly, the attacks of the enemy begin earlier. In position every night spilling even a 120-millimeter pieces of iron artillery projectiles and mines. the Soldiers are saying that the attacks in the last long – two or three hours. No rest during the day: because the trees are bare, then the terrorists line of sight positions of Ukrainian soldiers. Between the trenches often have to run, still endeavouring to stay on his feet in the snowy drifts. Despite all the difficulties of the terrain and of daily life, soldiers do not lose their sense of humor. "Certainly, we hope and expect, without this in any way. What's not to congratulate? It will be rudeness", – ironic video about the expectations of the special "congratulations" from the Russians on the day of the Ukrainian army.
As previously reported, on the professional holiday of the military on the front lines toldwhat they want most is not to lose in the war of the brothers and often to see family. the Ukrainian army is tempered not on exercises and in barracks, and at the forefront of the ATO. Fighters say that only here can formed a real army to be proud of and which is able to protect the state from external enemies.
The TSN reporter Eugene Nazarenko
Comments
comments