As signatories to the agreement on the collapse of the Soviet Union: Stanislau Shushkevich spoke about the "drunkenness" in Belovezhskaya Pushcha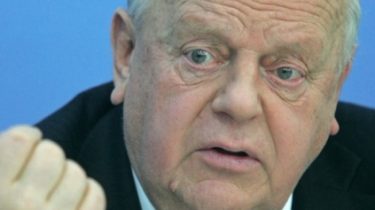 As signatories to the agreement on the collapse of the Soviet Union: Stanislau Shushkevich spoke about the "drunkenness" in Belovezhskaya Pushcha
© UNIAN
According to him, nobody was drinking alcohol during a meeting.
The former leader of Belarus Stanislau Shushkevich confessed that during the meeting in Belovezhskaya Pushcha, leaders of the three republics allowed themselves to drink less of the bottle Armenian konaka.
See also: Kravchuk in Belovezhskaya Pushcha called, not to feel bastards – Shushkevich
He said this in an interview to Russian service BBC.
"(Vyacheslav – ed.) Kebich in the Soviet were preparing the meeting, the economic all the questions were on it, as the Chairman of the Council of Ministers. And many other places where we went, there were tables with clean wine glasses, shot glasses, cups and beverages, including alcoholic. That is, if anyone here, staff or we would want to drink up, pour. Until the Armenian – Armenian little was brandy, but the Moldovan was, was good brandy," – said Shushkevich.
However, the journalist he said, "But Tatiana, nobody drank there."
"What are we drinking? There was a bottle of brandy – I'm telling you all – which stood at us when the six of us led the discussion. And glasses stood. So, when we get a good article, we've allowed ourselves to moisten the lips of the glasses of brandy. And now, imagine six healthy men, 0.5 liter of Armenian cognac, and that much (shows less than a quarter of the bottle) it otpit. Here is all of our drinking in the Bialowieza forest," said the former head of Belarus.
He also spoke about "hunting" at the meeting.
"Hunting the morning of 8 December, only went Kravchuk and Fokin (the Prime Minister of Ukraine – ed.). Both bummed. As I say with glee, Kravchuk shot and missed. But the Rangers told me, don't know still whether this is a joke. The Rangers say to both of them (hunters) wildings tied. But Fokin got shot, and we, the wilding, then ate – one or the other of a pig, but we have been told. But Kravchuk killed shot the rope that was tied pig. And he ran away. Nobody else on the hunt did not go," – said Shushkevich.
Comments
comments