Novinsky said that at the request of Poroshenko Yanukovych gave him the citizenship of Ukraine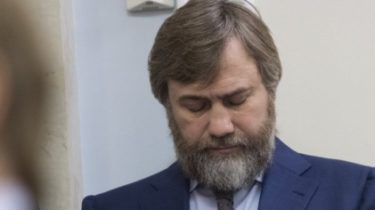 Novinsky said that at the request of Poroshenko Yanukovych gave him the citizenship of Ukraine
© UNIAN
The MP showed the letter, which reads: "For special merits in front of Ukraine asked to grant citizenship Novinsky".
The people's Deputy Vadim Novinsky stated that the citizenship of Ukraine ex-President Viktor Yanukovych gave it at the request of the current President of Petro Poroshenko.
This MP said from the rostrum of the Verkhovna Rada, commenting on the decision of the Prosecutor General Yury Lutsenko on Novinsky deprivation of parliamentary immunity, reports Ukrainian Pravda.
"The decision of the Prosecutor General says that Yanukovych planned his criminal plan, gave me citizenship. So I want to tell the attorney General that he knew the grounds for granting me citizenship to former Ukrainian President was a request by the Minister of economy in Azarov's government – Pyotr Alekseevich Poroshenko," – said Novinsky.
See also: Novinsky told what to do in case of removal of immunity
"This is the letter and here is his signature. It says, "For special merits in front of Ukraine asked to grant citizenship Novinsky" – showed the document to the MP.
"Then, perhaps, it turns out that a member of the criminal group, which conceived the criminal plan for the overthrow of Metropolitan Vladimir, and President Poroshenko", – he stressed.
He provided demonstrated the letter to the leadership of the Verkhovna Rada.
It is reported that on December 6 regular Committee identified the lack of arguments of the Prosecutor General and refused to recommend the Verkhovna Rada to deprive Novinsky immunity.
Recall, the Parliament today, December 8, will try to deprive of immunity of a Deputy from the Opposition bloc Vadim Novinsky. All factions except Poblocka willing to support such a decision.
Novinsky impute pressure on the Orthodox Church of the Moscow Patriarchate in the interests of the political elite – in particular, we are talking about imprisonment without the possibility of access to the sick Metropolitan Volodymyr his personal assistant Alexander drabinko. Novinsky pleaded not guilty, and the case he calls politically motivated, but promises to stay in Ukraine and to cooperate with the investigation. Lutsenko, the Prosecutor General and the speaker Parubiy believe that this matter should be resolved by the court.
Comments
comments