In Kiev the drunk man was going to jump off the bridge and reported an imaginary grenade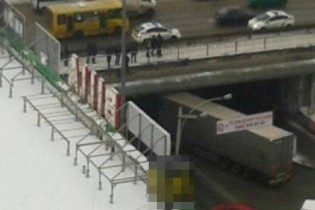 In Kiev the drunk man was going to jump off the bridge and reported an imaginary grenade
© Facebook/Patrol polca Ukraine
The man said he took the ring from the grenade safety checks, but does not know what to do with it.
In Kiev patrol rescued a drunken man who threatened to commit suicide and reported the grenade, which in fact had not.
It is reported Natspolitsiya in Facebook.
In particular, the police received a call that on a Picturesque street a man pulled the ring of safety checks from the grenade, but doesn't know what to do with it.
But arriving at the address police found that no one was there. When the police spoke to the Complainant, it appeared that he is on the bridge over the Prospekt Lesya Kurbasa.
Men were not the subjects similar to explosives, however, he threatened to kill himself.
Inspectors temporarily blocked off traffic and called an ambulance and rescuers.
The cops led a man talks, during which they noticed his obvious signs of intoxication. Subsequently, the patrol was able to approach the man and wrestled him to the snow.
The offender was examined by the doctors, and then the patrol took him to the police Department.
According to preliminary information, the man had previously had problems with the law, in particular, have made false calls.
See also: In Kazakhstan the two girls laughed and filmed the suicide
We will remind, became aware of the details of creepy quest-suicide girls from Mariupol. 15-year-old girl from Mariupol jumped from the 13th floor of the house, completing quests "quest" from the social network.
In the Donetsk region city of Mariupol young girl jumped from the 13th floor of the house, deciding to commit suicide. About it reported in Department of communications of the police in Donetsk region. It is noted that yesterday, December 7, the duty of the Central police Department received a report from a local resident that she was near her home found a corpse of the woman. Viewing the scene of the tragedy, the personal belongings of the girls, the police found a notebook with notes acidalcohol character.
Comments
comments