Page ex-Prime Minister Azarov has disappeared from Facebook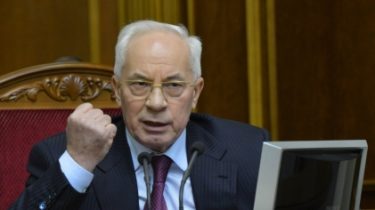 Page ex-Prime Minister Azarov has disappeared from Facebook
© zn.ua
It happened that day when police found his house with treasures in Kiev.
Page former Prime Minister of Ukraine Mykola Azarov has disappeared from the social network Facebook.
Now, if you go to the page Azarov, the social network fails with the following message:
"It's possible the link you clicked was outdated or the page is available for viewing audience to which you don't belong".

Recall that on 8 December the Metropolitan police in the Darnytsia district of Kyiv found the apartment with valuable things former Prime Minister of Ukraine Mykola Azarov.
Apartment-the warehouse was Packed full of shopping bags with valuables and works of art. The police stumbled on it while working out and came into the room, accompanied by the lawyer after obtaining permits.
"Dozens of icons and religious books Dating back to the XIX century, the original (according to conclusions of experts) of paintings by Ilya Repin, Vasily Tropinin and Nikos Safronov. And silverware, commemorative coins, premium weapons with permits to name "the Prime Minister-the fugitive" and even the Cossack saber," he listed by acting of the national police of Ukraine Vadim Trojan treasure a fugitive.
According to preliminary information, the value of the findings is estimated at several million dollars.
In Kiev apartment found a whole bunch of precious things Mykola Azarov
TSN. 19:30
Yesterday, 21:43
Add to favourites
According to preliminary estimates – 5 million dollars. The former Prime Minister had intended to escape with them from the country, but did not take. Personal weapons, paintings, icons were stored at a friend Azarov. The police came across them by accident. Some artifacts have shown to the public.
Icons of the XIX century and Cossack saber. In Kiev, found a place with a treasure Azarov
Policy
Yesterday, 16:06
1 of 17

The apartment found the treasure of Azarov and awards from the leadership of the Russian Federation
© Facebook/Vadim Trojan

1 of 17

The apartment found the treasure of Azarov and awards from the leadership of the Russian Federation
© Facebook/Vadim Trojan

1 of 17

The apartment found the treasure of Azarov and awards from the leadership of the Russian Federation
© Facebook/Vadim Trojan

1 of 17

The apartment found the treasure of Azarov and awards from the leadership of the Russian Federation
© Facebook/Vadim Trojan

1 of 17

The apartment found the treasure of Azarov and awards from the leadership of the Russian Federation
© Facebook/Vadim Trojan

1 of 17

The apartment found the treasure of Azarov and awards from the leadership of the Russian Federation
© Facebook/Vadim Trojan

1 of 17

The apartment found the treasure of Azarov and awards from the leadership of the Russian Federation
© Facebook/Vadim Trojan

1 of 17

The apartment found the treasure of Azarov and awards from the leadership of the Russian Federation
© Facebook/Vadim Trojan

1 of 17

The apartment found the treasure of Azarov and awards from the leadership of the Russian Federation
© Facebook/Vadim Trojan

1 of 17

The apartment found the treasure of Azarov and awards from the leadership of the Russian Federation
© Facebook/Vadim Trojan

1 of 17

The apartment found the treasure of Azarov and awards from the leadership of the Russian Federation
© Facebook/Vadim Trojan

1 of 17

The apartment found the treasure of Azarov and awards from the leadership of the Russian Federation
© Facebook/Vadim Trojan

1 of 17

The apartment found the treasure of Azarov and awards from the leadership of the Russian Federation
© Facebook/Vadim Trojan

1 of 17

The apartment found the treasure of Azarov and awards from the leadership of the Russian Federation
© Facebook/Vadim Trojan

1 of 17

The apartment found the treasure of Azarov and awards from the leadership of the Russian Federation
© Facebook/Vadim Trojan

1 of 17

The apartment found the treasure of Azarov and awards from the leadership of the Russian Federation
© Facebook/Vadim Trojan

1 of 17

The apartment found the treasure of Azarov and awards from the leadership of the Russian Federation
© Facebook/Vadim Trojan
The apartment found the treasure of Azarov and awards from the leadership of the Russian Federation
© Facebook/Vadim Trojan

The apartment found the treasure of Azarov and awards from the leadership of the Russian Federation
© Facebook/Vadim Trojan

The apartment found the treasure of Azarov and awards from the leadership of the Russian Federation
© Facebook/Vadim Trojan

The apartment found the treasure of Azarov and awards from the leadership of the Russian Federation
© Facebook/Vadim Trojan

The apartment found the treasure of Azarov and awards from the leadership of the Russian Federation
© Facebook/Vadim Trojan

The apartment found the treasure of Azarov and awards from the leadership of the Russian Federation
© Facebook/Vadim Trojan

The apartment found the treasure of Azarov and awards from the leadership of the Russian Federation
© Facebook/Vadim Trojan

The apartment found the treasure of Azarov and awards from the leadership of the Russian Federation
© Facebook/Vadim Trojan

The apartment found the treasure of Azarov and awards from the leadership of the Russian Federation
© Facebook/Vadim Trojan

The apartment found the treasure of Azarov and awards from the leadership of the Russian Federation
© Facebook/Vadim Trojan

The apartment found the treasure of Azarov and awards from the leadership of the Russian Federation
© Facebook/Vadim Trojan

The apartment found the treasure of Azarov and awards from the leadership of the Russian Federation
© Facebook/Vadim Trojan

The apartment found the treasure of Azarov and awards from the leadership of the Russian Federation
© Facebook/Vadim Trojan

The apartment found the treasure of Azarov and awards from the leadership of the Russian Federation
© Facebook/Vadim Trojan

The apartment found the treasure of Azarov and awards from the leadership of the Russian Federation
© Facebook/Vadim Trojan

The apartment found the treasure of Azarov and awards from the leadership of the Russian Federation
© Facebook/Vadim Trojan

The apartment found the treasure of Azarov and awards from the leadership of the Russian Federation
© Facebook/Vadim Trojan
Comments
comments