Russian pseudojournalism distribute fake "severed hand "volunteer"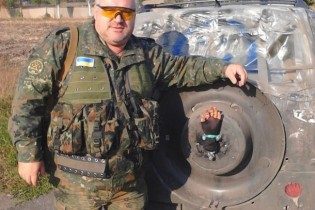 Russian pseudojournalism distribute fake "severed hand "volunteer"
Edmond Sahakian
Fighter ATO denied the information that allegedly posing against the backdrop of the limbs of the fighter.
In the Russian media circulated a photo where fighter ATO Edmond Sahakian posing in front of the car, the "spare tire" which is attached to the hand of the dummy.
However, the Russian journalists wrote that it was "the severed hand "volunteer." Edmond Sahakian denied this misinformation, according to Radio Liberty, and notes that a photo is available on the network since 2014.
Read also: Russia issued a fake of the "Ukrainian saboteurs" to cover for repressive actions – Hur
Propaganda site of the militants published an article with the title "Shock: "hero of the anti-terrorist operation" shows off the severed hand "volunteer" (PHOTO 18+)", "Moskovsky Komsomolets" – "Ukrainian military boasted a picture of the "foot "volunteer", "Photo: "Atoshnik" boasted in the social network severed hand "volunteer" and others.
To put up a photo of the Edmon Sahakyan on the background of the SUV and also quoted the ironic signature of the wife Sahakyan under the photo: "Here he is, with the foot "volunteer," for happiness) as American instructors taught)".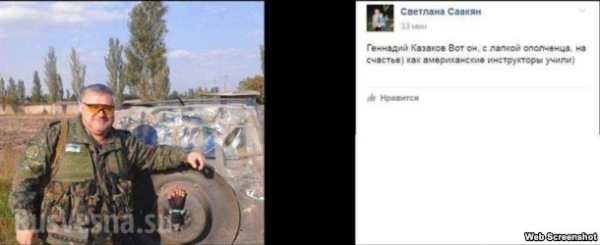 He Sahakyan noted that any expert will immediately realize that this hand is not real.
"In 2014, I this photo posted to Facebook, the photo complained to the moderators of Facebook. The moderators have checked this photo, well, there are normal people, they immediately see that it is the hand mannequin and not a human, and they wrote that due to the fact that this photo does not violate the rules of the social network, they delete it will not. And she still is on my page," he said.
Read also: ATO headquarters denied a new "fake" Donetsk separatists
According to Sahakyan, when one of the fighters screwed this "detail" to the car, but after a while it got lost somewhere.
The proliferation of fakes on the part of Russia is one of the tools for waging this war state against Ukraine. Fictional news regularly appear in a number of outreach resources of the Russian Federation.
Comments
comments