The Parliament failed law on special confiscation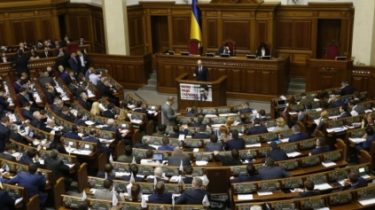 The Parliament failed law on special confiscation
© UNIAN
MPs did not even bother to send the document for revision.
The Verkhovna Rada of Ukraine adopted governmental draft law "On amendments to certain legislative acts of Ukraine on ensuring the collection of state income of unjustified assets."
About it writes "Interfax-Ukraine".
The decision was supported by 176 deputies at 226 minimum required votes of parliamentarians. Also, the three deputies voted for sending the bill to the relevant Committee for revision, and for sending a subject of legislative initiative, but these offer the speaker did not gain more than 212 votes.
"The bill is rejected," – said the Chairman of the Verkhovna Rada of Ukraine Andriy paruby.
The Deputy Minister of justice of Ukraine Anton Yanchuk, presenting the bill in Parliament, explained that we are talking about the procedure under which the state can recover assets belonging to the person who is suspected or accused of committing a corruption crime and hiding from investigation and trial.
Thus, it would be possible to return the illegally obtained property and money of the previous government.
Read also: Parliament adopted the "visa-free" law on special confiscation of property
We will remind that else in March the deputies during the session of the Verkhovna Rada refused to include in the agenda the billswhich proposed to resolve the mechanism of return of the state budget of the previous government.
A previous Prime Minister of Ukraine Arseniy Yatsenyuk urged the Verkhovna Rada to consider this bill. The Prime Minister accused deputies of covering up the crimes of the previous regime.
Deputies again refused to consider the law on special confiscation
TSN. 19:30
20 Oct, 21:09
Add to favourites
Parliamentarians took another step towards the adoption of the budget supported the recommendations of the budget Committee for the government. And although the draft budget for 2017 will be considered in November, the debate around it have traditionally been stormy. In particular, the government, reproached the fact that the draft budget already distributed the money, which is still a big question. In particular, it proceeds from the confiscation of corrupt assets.
Comments
comments