Anti-corruption prosecutors called Onishchenko for questioning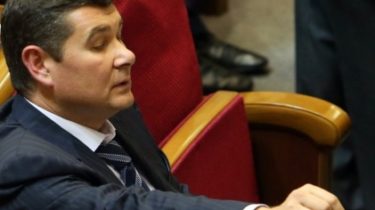 Anti-corruption prosecutors called Onishchenko for questioning
© UNIAN
For me Onishchenko – the person who is suspected of grave crime, – Holodnitsky.
Specialized anti-corruption Prosecutor's office summons for questioning people's Deputy Oleksandr Onishchenko on Tuesday, December 13.
Such statement on air of the TV channel ZIK was made head of SAP Nazar Golodnitsky.
"For me Onishchenko now the man, who is suspected of a serious crime. And these films are a way to close the case. Onishchenko until you provide facts of bribery, it will not move. For questioning we are going to call on Tuesday, December 13. I gave the order. If you said "A" says "B", "B", "G", and so on until the end of the alphabet for a vote which you were money, which the factions who are passed and in which banks took" – gave his assessment of the scandal around the so-called "films Onishchenko" anti-corruption Prosecutor Holodnitsky.
See also: If Onishchenko was recording Poroshenko, the passage he would have demonstrated
We will remind, Onishchenko told the British newspaper The Independent as "stoked" Yatsenyuk and corruption surrounded by Poroshenko. In particular, the resignation of Arseniy Yatsenyuk from the post of Prime Minister of Ukraine was planned by President Petro Poroshenko. The task was to discredit him in the media, and the constant protests. Media antikamnia lasted 10 months and each month she spent $ 3 million. Corruption surrounded by Poroshenko declared a fugitive of the people's Deputy Oleksandr Onishchenko, the article says the British publication the Independent, says that to check the accuracy of the statements Onishchenko has failed.
Onishchenko also said that gave the dirt on Poroshenko the US intelligence. Supposedly, during the meetings and recorded the conversations on a voice recorder built into a wristwatch.
The leader of Radical party Oleg Lyashko appealed to the NEB and the GPU with the requirement to verify the dirt of people's Deputy, the fugitive Alexander Onishchenko, the President Petro Poroshenko. "I would like to know what alliances Tymoshenko and gas tycoon Onishchenko. I think the public wants to know what the relationship between President Poroshenko and gas tycoon Onishchenko how much Onishchenko brought Poroshenko the money he made from Poroshenko of money, who are in Parliament got the money, who paid for the vote, and who the perpetrators of this corruption," – said Lyashko.
The President of Ukraine Petro Poroshenko called the false statements of people's Deputy Oleksandr Onishchenko about the alleged existence of dirt on the head of the Ukrainian state.
NABU Onishchenko invites you to testify on the case of bribing MPs
TSN. 19:30
December 8, 21:16
Add to favourites
It ready to grill in Kiev or Warsaw. This was stated by chief anti-corruption Prosecutor Alexander Golodnitsky. Allegations of bribery of MPs launched a pre-trial investigation. In the records that was released by the fugitive heard, as Alexander Onishchenko and Oles Dovgy discuss the possibility of closing a criminal case against Onishchenko. NABU classifies these records as the attendance Onishchenko himself in.
Comments
comments