"We've got a little": Lutsenko announced the imminent dawn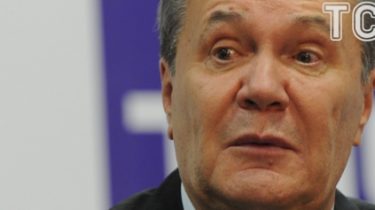 "We've got a little": Lutsenko announced the imminent dawn
© Reuters
The former President is suspected of treason.
Early next year will begin the trial deprived the title of President of Ukraine Viktor Yanukovych on charges of treason.
About it in a video message on Friday evening, said Prosecutor General of Ukraine Yuriy Lutsenko.
"In the beginning of next year, maybe sooner, we will hand the indictment and start proceedings for high treason Yanukovych. We left a little bit. In the coming months we are ready to complete the pretrial investigation," – said the Prosecutor General.
See also: the Swiss Federal Council for another year froze accounts Yanukovych
Lutsenko also accused PR and legal nihilism lawyer Yanukovych Vitaliy Serdyuk, who said that the former President does not have the status of a suspect. The head of the GPU said that he had not read the suspect Yanukovych in court, but only performed the procedural action – explained the essence of suspicion.
He recalled that the handing over of suspected Yanukovych happened when the military prosecutors handed over it to protect the relevant documents; also, GPU international mail-delivered copies of suspicions on all known addresses of living former President, and in the Rostov court.
Read also: Russia Yanukovych extended the period of temporary asylum. Document
"that Is the process is in strict accordance with Ukrainian and international law. We have provided the suspicion of the defenders, were sent to all known addresses of his stay or residence, and provided the Russian side to be awarded to the person within the territory of the Russian Federation. Statements by counsel that Lutsenko wrong handed is just ridiculous. Lutsenko gives suspicion. Lutsenko only, on this occasion, that he hears the suspect, explained the essence of suspicion," – said the Prosecutor General.
We will remind, on November 28 Yuriy Lutsenko to Svyatoshynsky district court of Kyiv announced that Viktor Yanukovych declared suspect in treason – the content of the suspicion is declared orally, namely, the notice was sent to all known addresses of the former President. On the same day after reading this suspicions the Military Prosecutor presented his lawyer Igor Fedorenko present in court.
On 9 December, the lawyer of ex-Ukrainian President Viktor Yanukovych Vitaliy Serdyuk returned to the Prosecutor General of Ukraine a message of suspicion. He said that it was declared in violation of international and Ukrainian legislation.
Yanukovych did not appear at the scheduled to the GPU interrogation
TSN. Wounds
December 5, 12:59
Add to favourites
The former President waited for 10 o'clock in the morning. The suspicion he announced the Prosecutor General Yury Lutsenko during videotapes a week ago. Instead of Yanukovych came a lawyer who argues that his client did not appear for good reasons: to come to Kiev, because there is threat to his life.
Comments
comments