Nice escape attempt. The Network has shown how little Panda was on the loose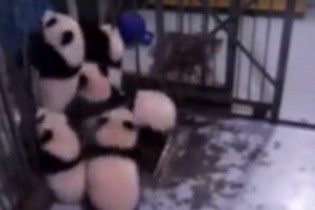 Nice escape attempt. The Network has shown how little Panda was on the loose
© Facebook/CCTVNews
The caretaker of the animals tried to stop them, but they did not give up.
The Network is gaining popularity video in which baby pandas trying to escape from the zoocentr.
Extremely cute incident happened in China, in Sichuan province, reports CCTVNews on the page in Facebook.
See also: blood pressure Meds and sweets. As celebrates birthday the oldest Panda in the world
Although the animal caretaker has repeatedly tried to prevent them, they did not give up.
We will remind, earlier the pupil zoocentr Chinese black white Panda Yu-Yu struck the staff of the zoo fun game for a snowy meadow. He had never before seen snow, so at first feared the unusual white matter.
Comments
comments