The Deputy Minister of energy found not specified in the Declaration mansion in Spain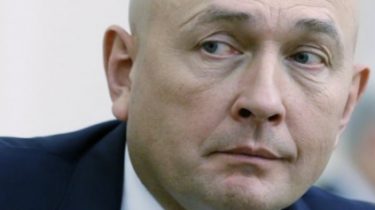 The Deputy Minister of energy found not specified in the Declaration mansion in Spain
© UNIAN
The Villa is estimated at over 1.5 million euros.
Deputy Minister of energy and coal industry of Ukraine Igor Didenko did not indicate in its electronic declarations for 2015 a Villa in Spain, which is owned by his family.
This is stated in the investigation of the program "Schemes", a joint project of Radio Liberty and the canal "UA:the First".
The Declaration Didenko not specified foreign property, however, there is information about the Spanish company Eurobiuldings Investments (SLU), headed by his wife.
Read also: Journalists found out who else from the officials own property and do not specify it in the declarations
According to the Spanish registries, the firm has ownership of the mansion on the Catalan coast of Costa Brava in the town of S'agaro. The house is estimated at more than 1.5 million euros.
Igor Didenko told journalists that he was in a Spanish house, at the same time convinced that complete the Declaration in accordance with the law.
See also: Mother-teacher "poor" people's Deputy from "BPP" declared real estate for UAH 36 mln – media
On 7 December, the official was dismissed from his post, so soon will be his second Declaration, which is served after the dismissal.
We will remind, earlier journalists have found out that the President of Ukraine Petro Poroshenko owns a Villa in the South of Spain, but he did not indicate it in your e-Declaration. The house is decorated not personally to the Ukrainian President, and one of his companies called Feruvita SL, which is in his Declaration. The mansion is located in the small town of Atalaya-Isdabe.
Property in Spain have and the people around Poroshenko – Deputy Igor Kononenko and Deputy Secretary of Council of national security and defense Oleg Gladkovsky.
In the Administration of the President of Ukraine in response to the request of journalists has told that the enterprises, where Poroshenko is the ultimate beneficiary have a property abroad (factories, shops, warehouses, administrative buildings, houses). In the AP are convinced that all this is in the form of legal entities specified in the Declaration according to the Law "On corruption prevention".
Comments
comments