The former leader of "LNR" declared that the militants fired at the occupied Lugansk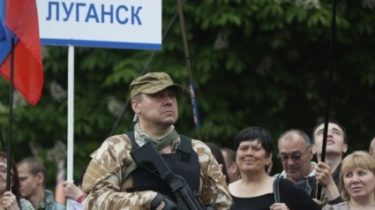 The former leader of "LNR" declared that the militants fired at the occupied Lugansk
© dn.depo.ua
Fire engaged the terrorists from the gang of Igor Plotnitsky.
The former leader of the terrorist organization "LNR" Valery Bolotov admitted that in the summer of 2014, the militants fired at the occupied Lugansk.
He told about it in interview to the Russian edition Rosbalt.
According to Bolotov, the shelling of the city was engaged militants from the gang "dawn", which was led by the current leader of "LNR" Igor Carpenter. Also fired Lugansk militants and other gangs.
"It was mishandled a lot of people who were to commit acts of sabotage and corrupt discipline. And in "Dawn" were the largest percentage of these "saboteurs", – said Bolotov.
The former leader of "LNR" added that in his time ordered the Carpenter to raise a battalion to protect law and order in the city, engage in combat and protect the borders of the "LC".
See also: Pressed flat and served Plotnitskogo. The fighter from Belarus told how he fought in the ranks of the "LC"
"However, as it turned out, the battalion "worked" for the other. I tried, but I didn't have the time, resources and opportunities to all the time be there and control the people. I trusted a Carpenter, and he formed a battalion for himself. These people carried out the orders of the Carpenter, not mine" – complained Valery Bolotov.
We will remind, Valery Bolotov headed the terrorist organization "LNR" from the beginning of the war in the East of Ukraine until August 2014. He then stated that his resignation was due to the fact that "the consequences of injury do not allow full dedication to work in this position". Instead of the leader "LNR" was Igor Carpentry.
Children of the separatists is a fabulous new Russia, choose the capital "junta"
Pennies
February 2, 2015, 23:08
Add to favourites
While the mayor of Stakhanov complains of hunger, his children, glamorous fun in a peaceful Ukraine. The daughter of a popular mayor brags in the social networks new silicone bust, and the son – a luxurious Porsche.
Comments
comments