The exchange of prisoners by the formula "all for all" in Russia expressed readiness to negotiate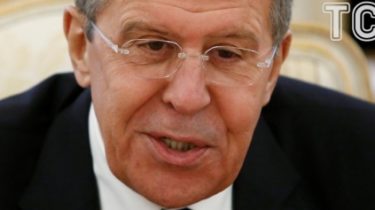 The exchange of prisoners by the formula "all for all" in Russia expressed readiness to negotiate
Sergei Lavrov© Reuters
Also ready for the talks and the alleged representatives of the militants.
Russia and the militants in the Donbas are ready to negotiate about the exchange of prisoners by the formula "all for all".
This at a press conference in Hamburg, said the Russian foreign Minister Sergei Lavrov.
See also: Steinmeier confirmed the expected date of exchange of prisoners in the Donbass
"Concerning prisoners, detained persons: we have long and consistently subscribe to the requirement or calling to exchange "all for all". In the words of the parties to the conflict – the Ukrainian authorities and representatives of Donbass in favor of this approach," Lavrov said, answering a question of the correspondent of TSN.
He added that several exchanges occurred, but "it was a long time ago."
Lavrov also said that Russia at the meeting in the Normandy format at the level of heads of States confirmed the necessity of the exchange of prisoners.
"The practical details of such exchange can be reconciled only within the framework of the contact group between the people who own specific information – need to share lists," he said.
See also: Steinmeier hopes for a prisoner exchange in Donbas before Christmas
"Representatives of Russia and representatives from Donetsk and Luhansk are ready for this work, I hope that the Ukrainian side, which violate these very hard questions, sit down at the table and agree on all these details, lists, and more", – said the head of the Russian foreign Ministry.
Lavrov asserts that the complexity in the exchange lies in the fact that Ukraine allegedly "naughty and avoids direct conversation with the team".
"Ukrainian officials are capricious and otherwise avoid a direct conversation with "Pitmen". Although only a conversation can give the result about the names. But it always try to avoid direct contact, it complicates the implementation of the Minsk agreements, because the agreement in Minsk is literally full of provisions that require coordination between Kiev and Donetsk, Lugansk and a number of issues, including Lugansk, who have priority, and less priority to the issues of political reforms," – said the Russian diplomat.
Earlier in Minsk, the Ukrainian side said it is ready to exchange 600 militants 108 prisoners of Ukrainians.
Militants in Minsk suggested another option of exchange of prisoners
TSN. Wounds
8 Dec, 08:04
Add to favourites
They offer to take 228 their accomplices, and to give us from prison forty-two Ukrainians, declared by the militants. But representatives of the breakaway republics is not accepted. About this on his page said Irina Gerashchenko. The numbers of militants on the number of prisoners did not confirm the SBU and represent that in a hostile captivity be not less than 108 Ukrainians.
Comments
comments