The Swiss Federal Council for another year froze accounts Yanukovych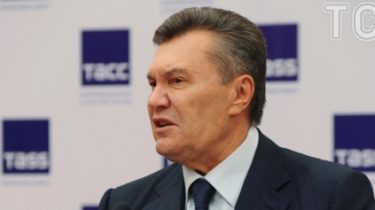 The Swiss Federal Council for another year froze accounts Yanukovych
© Reuters
The purpose of this solution is to provide more time for criminal investigations in the countries concerned.
Switzerland extended a year freezing the accounts of ex-presidents of Tunisia, Egypt and Ukraine and entities associated with them.
This is stated in the message on the website of the Swiss Federal Council.
At the meeting on 9 December, the Federal Council decided to extend for one year the freezing of all assets in Switzerland ousted presidents Ben Ali (Tunisia), Hosni Mubarak (Egypt) and Viktor Yanukovych (Ukraine), as well as their environment and other individuals closely associated with them.
The purpose of this solution for more time for criminal investigations in the countries concerned.
Switzerland has frozen the assets of Yanukovych in 2014, for a period of three years. The validity of these sanctions to expire in February 2017. We are talking about the freezing of assets worth 70 million Swiss francs (more than million).
Read also: Russia Yanukovych extended the period of temporary asylum. Document
"Criminal investigations were initiated against large number of persons falling under action of this event (freezing accounts – ed.) and in Switzerland have been calls to provide the appropriate legal assistance. These appeals brought significant interim results, although more time is needed for excitation of criminal cases", – stated in the message.
It is noted that shortly before the expiry of freezing accounts in the beginning of 2018, the Swiss Federal Council will again assess the situation and decide whether to continue the freezing of assets on the basis of the progress achieved in subsequent trials.
Recall on November 28 Yuriy Lutsenko to Svyatoshynsky district court of Kyiv announced that Viktor Yanukovych declared suspect in treason – the content of the suspicion is declared orally, namely, the notice was sent to all known addresses of the former President. On the same day after reading this suspicions the Military Prosecutor presented his lawyer Igor Fedorenko present in court.
Comments
comments