One of the leaders of "Berkut" after the Maidan went on increasing – volunteer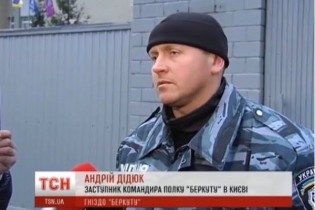 One of the leaders of "Berkut" after the Maidan went on increasing – volunteer
Andrew Didiuk
Andrew Didiuk, passes accused on the case of dispersal of the students.
Volunteer Roman Sinitsyn asserts that the former Deputy commander of the Kiev "Berkut" Andrew Didiuk, now continues to serve as the commander of a Regiment of special police No. 1.
About this he wrote in Facebook.
See also: Court refused to dismiss the General, who is suspected of crimes against Euromaidan
"Three years ago, Andrew was a major. Deputy (Sergey – ed.) Kusyuk, who is now serving in the Russian Riot police. That "Berkut" who beat the students on November 30. Which have been mutilated, robbed, and killed people in the period from November 2013 to January 2014. Now Andrew, Lieutenant Colonel. Continues to serve. True now holds the position of commander of the Regiment of special police No. 1. Now called "Berkut". Andrew commands the whole of the Kiev "Berkut", – said in his message.
"Andrew went on increasing. Also Andrew is accused in the case on November 30. However, it is not removed and continues to work," – said Sinitsyn.
The volunteer is convinced that the prospects in this case no, because it "intentionally ruining the judge Elena Meledak that fabricated cases against Automaidan".
Recall, November 30, the leadership of the national police stated that it was removed from service soldiers of "Berkut", suspected of crimes during the revolution of dignity. The decision applies to those employees of special forces "Berkut", who are defendants in criminal proceedings regarding crimes against protesters on the Maidan in December 2013 – February 2014.
Comments
comments