Savchenko refused to comment on the meeting with the leaders of the "LDNR"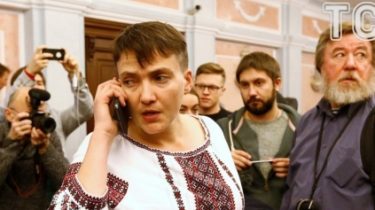 Savchenko refused to comment on the meeting with the leaders of the "LDNR"
© Reuters
The MP refused to speak with reporters.
The people's Deputy Hope Savchenko refuses to comment on the meeting with the leaders of the terrorist"LNR" and "DNR".
She declared to "the Ukrainian truth".
"I'm sorry, I don't have time to talk right now" she said to journalists.
Later they called her sister Vera, but the phone was picked up Hope and said that "to say there's no time for anybody".
In response to an SMS message with a request to provide a comment when it is convenient, she wrote: "When I have something to say, you will hear".
Read also: SBU commented on the possible appointment Savchenko with the rebels in Minsk
We will remind, people's Deputy of Ukraine Hope Savchenko held secret talks with the leaders of the gangs "DND" and "LNB" in the capital of Belarus Minsk. It is reported ЛІГА.net citing three sources. According to interlocutors of publication, Savchenko a few hours spoke with Alexander Zakharchenko and Igor Plotnitsky, and the meeting was organized by the Federal security service of the Russian Federation with the assistance of the Russian Embassy in Belarus. According to one source, the policy meeting with the terrorists in the presence of the FSB relate to the topic of pressure on Kiev.
Comments
comments