"I didn't see them in hell". Savchenko for the first time commented on the meeting with Carpenter and Zaharchenko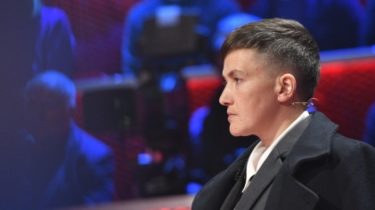 "I didn't see them in hell". Savchenko for the first time commented on the meeting with Carpenter and Zaharchenko
Nadezhda Savchenko© Right to Vlad
The MP says I didn't warn its political force on the planned talks.
The people's Deputy Hope Savchenko for the first time confirmed a meeting with the leaders of "LNR" and "DNR" Igor Plotnitsky and Alexander Zakharchenko in the Belarusian capital of Minsk.
The politician came to journalists and said that it was working with the foreign Ministry and the SBU in the framework of the law.
"Regarding the meeting in Minsk. Yes, a meeting was held. In Minsk the trilateral format. With the presence of the Russian side and the presence of Zakharchenko and Carpentry "DNR" and "LNR". The meeting was aimed to strengthen the Minsk group format and to make it more effective in the near future", – said the people's darling.
Read also: Savchenko and militant leaders were not invited to the group in Minsk, the press Secretary of Leonid Kuchma
She added that it was not made known to the faction "Batkivshchyna" about his talks with the leaders of the militants and added that he saw "hell" Zakharchenko and Carpentry.
"I promised the people coming out of prison, I will fight, I will say even with the devil. Yes, I was sitting at the negotiating table with the people we were shooting each other. I don't see it, because if I saw hell, we would have nothing agreed," she explained.
Recall, 11 December the media reported on the secret talks of the people's Deputy of Ukraine Nadezhda Savchenko with the leaders of terrorist groups "DNR" and "LNR" in the capital of Belarus – Minsk. She is a politician meeting with the militants refused to comment.
In turn, the main "Lnrovets" Igor Carpenter confirmed that he and the head of the "DNR" Alexander Zakharchenko met with people's Deputy Hope Savchenko, during which discussed the exchange of prisoners by the formula "all for all".
"It should be seen correctly, it is necessary to understand that this whole process takes place within the framework of the Minsk talks", — he said.
In the "Fatherland" , the negotiations of his Deputy with the militants called unacceptable.

Comments
comments