Savchenko confirmed a meeting with the leaders of the militants – SBU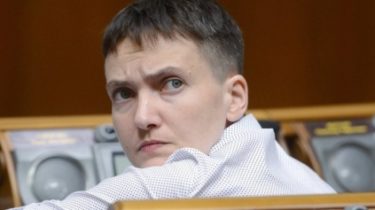 Savchenko confirmed a meeting with the leaders of the militants – SBU
© UNIAN
The MP was questioned by investigators of the Department.
The people's Deputy of Ukraine Nadezhda Savchenko confirmed that he had met in Minsk with the leaders of the militants "DNR" and "LNR" Alexander Zakharchenko and Igor Carpentry.
This was stated by the chief of staff of the SBU Oleksandr Tkachuk, referring to investigators of the Ministry, reports "Interfax-Ukraine".
"She confirmed the visit to Minsk and his meeting with leaders of the terrorist organizations "LNR" and "DNR", – he stressed.
In turn, the former representative of Ukraine in the political subgroup of the negotiations in Minsk, the Roman Immortal comments, "espresso" noted that the Kremlin is using Savchenko.
"One of the roles in this process set aside, obviously, Ms. Savchenko. This figure is the most famous. I would say that in this case it is used blindly. On the other hand, closed-door meeting, which in principle can not be closed, because there is such a public person, as Savchenko. And note, not a word is said that there were other people that were talking on this subject," he said.
According to Bessmertnogo, now began the next phase of intensive care of Minsk, which has attracted new faces.
"I would call it operation "Minsk-3". It is clear today that the talks in Minsk, "Norman four" fades away, they barely hold. Therefore, this process included a new figure. You know how in chess, the pawn reaches the edge and becomes a Queen. This is an attempt to play in this combination. At the talks in Minsk were not the only Savchenko and other new representatives of other groups – social, public, political," – said the Immortal.
Recall, 11 December the media reported on the secret talks of the people's Deputy of Ukraine Nadezhda Savchenko with the leaders of terrorist groups "DNR" and "LNR" in the capital of Belarus Minsk. She is a politician meeting with the militants refused to comment.
In turn, the main "Lnrovets" Igor Carpenter confirmed that he and the head of the "DNR" Alexander Zakharchenko met with people's Deputy Hope Savchenko, during which discussed the exchange of prisoners by the formula "all for all".
"It should be seen correctly, it is necessary to understand that this whole process takes place within the framework of the Minsk talks", — he said.
In the "Fatherland" , the negotiations of his Deputy with the militants called unacceptable.
Comments
comments