The EU promised to negotiate with the Netherlands about the Association agreement for Ukraine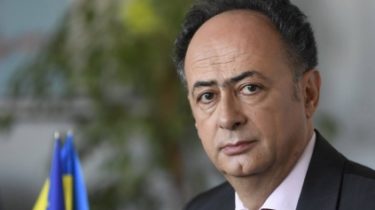 The EU promised to negotiate with the Netherlands about the Association agreement for Ukraine
© EU delegation in Ukraine
A compromise will be found soon.
In the European Union promise to negotiate with the Netherlands about the Association agreement EU-Ukraine in the next two to three days.
This was stated by EU Ambassador in Ukraine Hugues Mingarelli, Interfax reported.
"Now, at this very moment, the Dutch authorities communicate with the leaders of the European Union to find a solution, as we call it, Dutch difficulties. We are confident that this week, in the next 2-3 days, a solution will be found," said Mingarelli.
The EU Ambassador also expressed confidence that a solution will be found, will not allow "to dilute the provisions of the Association Agreement".
"We are confident that this decision one will retain the current contents of the Association Agreement, and with another – will take into account all matters which concerned the citizens of the Netherlands", – he stressed.
"27 countries-EU members that have ratified the Association agreement, will not agree to dilute its current position," he said.
See also: the Netherlands will urge the EU to provide Ukraine with financial assistance and security guarantees – Reuters
Recall that the EU is ready to agree to the demands of the Netherlands, to save the Association agreement with Ukraine. So, according to diplomats, which refers to Reuters, the position of the Netherlands is or the EU agrees, and the Netherlands refuse to ratify. One of the requirements of the EU must declare that the Association agreement with Ukraine does not mean additional obligations or security of a financial nature. The correspondent reports about it "Radio Freedom" Grigory Zhigalov.
The Netherlands also need to recognize that the agreement will provide the Ukrainians the right to freely live and work in the EU. One of the most controversial points – and he still is not agreed, concerns the possible membership of Ukraine in EU. Now the politicians are looking for words that would on the one hand is quite clear, on the other hand, the future is not closed EU doors to Ukraine. But the point is that the Association agreement does not imply future membership of Ukraine in EU.
Comments
comments