Brutal triple murder in Kyiv can be explained by cannibalism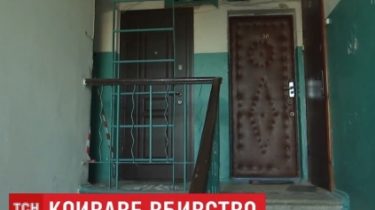 Brutal triple murder in Kyiv can be explained by cannibalism
The murderer was 29-year-old eater.
Horrible murder of spouses of retirees and their son in Kiev made of their relative, who managed to eat part of their victims, before the neighbors called the police. Without waiting for the arrest, the offender shot himself, according to a story TSN.19:30.
"The apartment lived a retired married couple and their 40-year-old son. According to the preliminary version, it came to a nephew, who killed all tenants and dismembered them. Kitchen knives and guns are submitted for examination", – said the head of the police of Solomenskiy district of the city of Pavel Vasilenko. Law enforcement authorities say that at the crime scene, in addition to weapons, found the remains of bodies, laid out for cans and pots. "Nephew cooked their relatives in pans", – told shocked police.
In the capital of the Ogre ruthlessly with their relatives
TSN. 19:30
Yesterday, 22:10
Add to favourites
Killed, stabbed with a kitchen knife into pieces and cooked. In the capital, with two pensioners and their son brutally murdered in his own apartment. The main suspect is the nephew of the deceased. He shot himself when the police tried to get to the apartment of pensioners.
Investigators believe that it could be either cannibalism, or attempt to destroy evidence of a crime. It is known that the main suspect still had problems with the law and was not registered in the mental hospital. Neighbors say they did not hear any quarreling, no shouting, no fuss from the apartment where the tragedy occurred. The motives and circumstances of the crime are trying to establish law enforcement.
As previously reported, neighbors in a city apartment in Solomenskiy district of Kiev has arrived it is investigatory-operative group of the police. Tenants reported that a few days did not see neighbors, and in the entrance is heard an unpleasant smell. When police arrived at the scene, the apartment no one opened. Therefore, by calling representatives of the housing Department, had to break the door. At this point the house a shot rang out. Once in the apartment, police found the remains of several human bodies, as well as a man with a gunshot wound to the head. They tried to save the doctors, but he died in the ambulance.
The correspondent TSN Alexander Romanyuk
Comments
comments