Kyiv-Mohyla Academy can be without the iconic building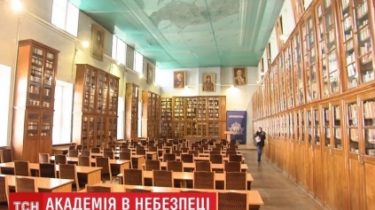 Kyiv-Mohyla Academy can be without the iconic building
Mazepa housing under threat of destruction.
Old academic building the building of Kyiv-Mohyla Academy on its last legs. The overhaul of this building has not been since the times of Hetman Ivan Mazepa, says the story TSN.19:30.
Despite the status of a monument of architecture of national significance, the building is in poor condition. Rotten roof like a sieve, so the water each time after snow or rain dripping into the room. From the walls of the stucco falls off the beginning of the XVIII century. The Foundation subsided and cracked, part of the props just washed groundwater. Due to problems with the building under threat is also a research library with tens of thousands of rare and collectable books. "Here and earthworks should have the pit, to see what's the base, maybe the valves need tightening, brewing. Need to get deeper look what was happening, because we top do than the hands, it turns, and there should be mechanisms," – said the Deputy head of the operational-technical centre, Vladimir Ignatenko.
Old academic building housing Mohyla Academy under threat of destruction
TSN. 19:30
Yesterday, 22:26
Add to favourites
Despite the status of architectural monuments of national importance, NaUKMA old academic building housing on its last legs. Since the days of Mazepa overhaul of the building was not. The roof crumbled, the Foundation sagged, the walls littered with cracks, and the students and staff of the Academy with fear watching the weather forecasts.
The poor condition of the building was evident 20 years ago. At the same time, the design Institute has developed a plan of restoration, but money is not enough – the work was postponed. "The decision prinyatye 20 years ago is irrelevant today. It makes again order the examination, again book research, the project documentation", – said the Director of "Ukrniiproektrestavratsiya" Basil Timkovich. To start over and save the monument, we need money. Alone and even with the help of patrons, the Academy is unable to cope – for repair today, you need at least 80 million.
Last year, President Petro Poroshenko took part in the celebrations of the 400th anniversary of Kyiv-Mohyla Academy , and personally congratulated the students and teachers with the holiday. "Time passes, but Kyiv-Mohyla Academy is eternal. For 400 years give way to a whole historical era, but Kyiv-Mohyla Academy as educated successful Ukrainians that shaped the future of Ukraine, and continues to do so to this day. Sincerely thank you from the entire country, myself, dear Academy staff, students and alumni, for choosing to invest your life in the development of our country. Believe that ahead of Kyiv-Mohyla Academy hundreds of years of success and significant achievements," he said, addressing the audience, the head of state.
The TSN correspondent Olga Neskorozhana
Comments
comments