Russia deliberately delaying "Minsk", hoping to shift the participants of the "Normandy format" – Klimkin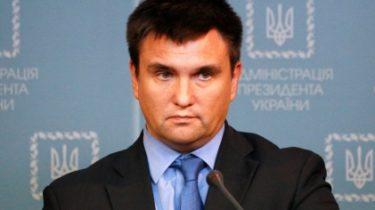 Russia deliberately delaying "Minsk", hoping to shift the participants of the "Normandy format" – Klimkin
© Reuters
According to the head of the foreign Ministry of Ukraine, the Kremlin hopes to negotiate with the leadership of the United States.
The Russian side is deliberately delaying the negotiation process on settlement of the situation in the Donbass, waiting for the change of key world leaders.
This was stated by Minister of foreign Affairs of Ukraine Pavlo Klimkin, writes "Interfax-Ukraine".
"Russia is deliberately delaying… delaying Logic is that, in my opinion, they expect changes in the terms, for example, the change of us leadership and the ability to negotiate with them, weakening the position of Europe," he said.
According to Klimkin, Russia also hopes to replace the participants of the "Normandy format".
"In the "channel format" there are participants who are very deep into the subject, and it also wants to use Russia to lose such key politicians for whom this is not just a political issue but also emotional," said the Minister.
Separately, he also assured that this international and European solidarity is fundamentally important.
"It's not just about sanctions… If there is solidarity, that Russia has no place in the civilized world, and to live outside it – impossible," – said Klimkin.
Recall that in the talks in Minsk militants refused to release 42 of the Ukrainians in exchange for the 228 "friends".
Earlier, the Minister of foreign Affairs of the Russian Federation Sergey Lavrov during a press conference at the Ministerial meeting of the OSCE stated that held in the Russian Ukrainians Oleg Sentsov, Roman Sushchenko and Stanislav Klikh can exchange for Russiansdetained on Ukrainian territory.
"As for these people, there must be a legal possibility, they were already used when there was an exchange of Hope Savchenko", – he noted.
Comments
comments