Patrol police conducted a surprise night RAID on Kiev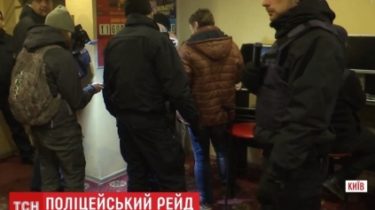 Patrol police conducted a surprise night RAID on Kiev
In one of the districts of the capital police visited the suspicious objects.
In one of the residential districts of Kyiv patrol police staged a night RAID. Four dozen law enforcement officers were checking all suspicious persons that may be involved in the thefts, according to a story TSN.19:30.
First of all the police visited the settlements of the Roma, which usually find stolen phones, Bank cards and wallets. This time did not find anything suspicious, but saw a man who was similar in orientation to the robber. With him delivered to the Department and family with a small child, which the Roma do not have documents.
The Metropolitan police staged a night RAID in a pawn shop, a casino, and the settlement of the Roma
TSN. 19:30
Yesterday, 21:17
Add to favourites
In one of the residential districts of Kyiv patrol police staged a night RAID. The police checked all suspicious, which may be involved in theft. First visited pawn shops, casinos and the settlement of the Roma.
The next point of inspection was the establishment with slot machines and virtual casino. Patrol says they have the right only to check the customers, but the legality of the machines and activities is taking another Department. At this time in Lombard in the next room ran two men, one of whom was found a lot of receipts from pawn shops for different things – household appliances, jewelry and even a soldering iron. Information will be checked to determine whether the stolen items were pawned this man.
As previously reported, the other day in the Parking lot shopping Mall in Obolon district in Kiev, the attackers shot the man, he took the purse with the money and disappeared. The victim with gunshot wounds to the arms, neck and head were taken away by ambulance. He is now under supervision of doctors.
The TSN reporter Anton Strashko
Comments
comments