The AMC is told how to recover from "Gazprom" 172 billion hryvnias of penalties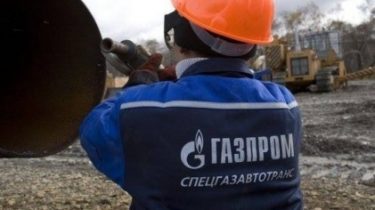 The AMC is told how to recover from "Gazprom" 172 billion hryvnias of penalties
© Gazprom
Ukrainian courts confirmed the violation by the Russian company of Antimonopoly legislation.
Russian Gazprom has to pay Ukraine for abuse of a monopoly position in the market of services for transit of natural gas through main pipelines in the territory of Ukraine almost 172 billion. Of them 85 billion 965 million actually fine, and yet the same penalty for delay of payment of fine, to which was given two months. The court also ordered Gazprom to stop violations.
This is stated in the message of Antimonopoly Committee of Ukraine, which was the initiator of the lawsuit.
For the collection of fines and penalties the ACU will appeal to the state Executive service.
"However, the Committee is considering other options, including enforcement of its decisions abroad", – commented in the AMC.
Read also: Poroshenko hopes on Ukraine's victory in court between "Naftogaz" and "Gazprom"
The Russian side has repeatedly stated that it does not recognize the penalty, and therefore will not pay. At the same time head "Gazprom" Alexey Miller said that the Russian company has no assets in Ukraine, therefore, has accused Ukraine of possible theft of Russian gas transit which goes to Europe.
"We have, in addition to gas in the pipe, there are no assets in the territory of Ukraine. If the question is put this way, we are talking about the actual selection of our gas intended for European consumers," Miller said.
Recently the Minister of energy of Russia Alexander Novak spread information allegedly received from the European Commission guarantees about not collecting fines imposed by the AMCU to "Gazprom".
AMC emphasizes that "neither in the documents prepared and filed in court or during the court hearings, or otherwise is never required and not recalled a possible arrest and repossession of the transit gas, which is supplied to the Gazprom main pipelines on the territory of Ukraine to European consumers".
Recall, Ukraine for a year does not buy Russian gas. Recently negotiations were held, but the Russian side failed to agree on gas supplies in winter.
Comments
comments