Near Kiev burning warehouse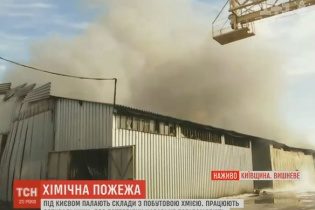 Near Kiev burning warehouse
Rescuers managed to localize the fire.
Near Kiev in the town of cherry in the hangar with humanitarian aid began a large-scale fire: burning things and household chemicals, which were stored according to the month of the event the journalist of TSN Tatiana Fruit.
The fire started at 9 am, there almost immediately arrived rescuers. They are several hours fighting the fire, however, burned 1500 square meters of warehouses.
At the moment the fire is localized. Continues fire in one of the rooms, which is almost 100 meters long. There are trying to go the rescue.
See photos: Massive fire at former brewery in Chernivtsi: rescuers drove the fire train
Now establish who owns the hangars. About the victims have not yet reported.
Comments
comments