To cancel the punishment for working in the sex industry demanded in Kiev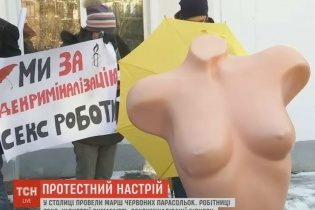 To cancel the punishment for working in the sex industry demanded in Kiev
March of the red umbrellas are traditionally carried out in European countries December 17
Activists and workers of the sex industry came to the Ministry of internal Affairs with a demand to delete article adminkodeksa for prostitution, according to TSN.16.45.
Plastic naked woman, posters with calls to protect sex workers, and red umbrellas in the cold.
March of the red umbrellas are traditionally carried out in European countries on December 17. This is the day of protection of the rights of workers in the sex industry. Ukrainian defender with umbrellas came to MIA. The only demand is to repeal article adminkodeksa for prostitution.
Elena says that now she has a husband and a full family. Prostitution was earning before. The woman explains that during his work suffered more from the police. They knew all the prostitutes of the area. Periodically visited and designed the Protocol on adminnarushenii.
See also: British prostitutes have created a website, which drained reviews about their customers
"They directly said, "once again you don't skate, let's write a couple of protocolicon, the dates are not set, then we will deliver when we need," says the woman.
After the second Protocol to Helen and her colleagues were fined.
"She again have to go there to earn money to pay this fine. A vicious circle. So we want to abolish article for adminnarusheniye, to avoid corruption", says the woman.
For margaritas this business also in the past. The woman says that he worked in Moscow. She is originally from Krivoy Rog. Says her friend, who in the 90s worked in the Russian capital has now returned home. With those who are still working, Margarita deals.
"Tell you what excesses do cops throw Shirky, weed, anything" says the woman.
See also: Lviv and Kharkiv have exposed a network of brothels more than a hundred prostitutes arrested
Activist Margarita Tarasova said that only in Kiev are constantly working in the sex industry at least 2 000 women. Administrative responsibility, their number is not reduced. Decriminalization, says Margaret, has nothing to do with legalization. And adds that an adult has the right to decide how to earn.
"Decriminalization involves minimal state intervention in this process. Legalization is the licensing which, for example, forced medical examinations, decriminalization is the first step to overcoming violence," says the activist.
Forms administrative reports activists pasting on a plastic mannequin. And its demands voiced through the mouthpiece. They prepared the appeal, because they trusted them and so will hear at the Ministry. However, within thirty minutes of the action to them no one came.
Comments
comments