The foreign Ministry called the holding of the closed vessels psychological pressure on Sushchenko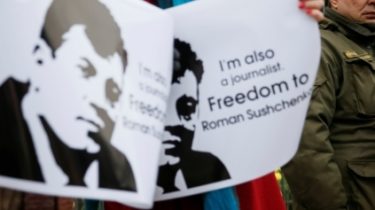 The foreign Ministry called the holding of the closed vessels psychological pressure on Sushchenko
© Reuters
Ukrainian diplomats expressed strong protest.
The holding of the court in closed session hearings on the case of Ukrainian journalist Roman Sushchenko is evidence of continued psychological pressure on him.
This was stated by the Ukrainian foreign Ministry.
We will remind that the Moscow court upheld the court ruling on the extension until January 30, 2017 term of detention of illegally detained in Russia Ukrainian journalist.
"The persistent refusal of the judicial branch of the Russian authorities to change measure of restraint on not connected with detention and further court hearings behind closed doors attest to the continued psychological pressure on the citizen of Ukraine and the political engagement of the Russian judicial system", – stated in the address of Ukrainian diplomats.
The Ministry of foreign Affairs of Ukraine expresses its decisive protest in connection with the decision of the Russian court and demands from the Russian authorities to immediately stop the lawlessness and to release the detained arbitrarily Sushchenko.
See also: Sushchenko get the recognition of the freedom to communicate and visit with family – Feigin
Recall, 3 October , information appeared about the arrest of Ukrainian journalist Roman Sushchenko Lefortovo court for 2 months. Russian security forces claim that he "purposefully collected data which constitute a state secret, the activities of the Armed forces and National guard, the leak of which abroad could harm the defense of the state". Against the Ukrainian opened a criminal case on charges of espionage, are investigating. Roman Sushchenko in jail "Lefortovo" has found members of the Public monitoring Commission (CSC) in Moscow. 47-year-old journalist was in the chamber of the quarantine Department.
The Moscow city court dismissed the complaint on the arrest of Roman Sushchenko
TSN. 16:45
15 Dec, 17:34
Add to favourites
The court session on the case of Ukrainian journalist Roman Sushchenko was happening behind closed doors and the decision – advocates are not surprised. It was predictable – complaint for the arrest was rejected. According to this, the Novel will be kept in Lefortovo jail at least until January 30 of next year.
Comments
comments