ARS will submit a petition to the court on the measure of restraint for the Chairman of the CEC – Holodnitsky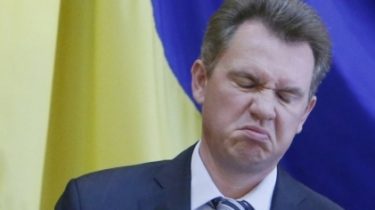 ARS will submit a petition to the court on the measure of restraint for the Chairman of the CEC – Holodnitsky
© UNIAN
Okhendovsky suspect that he took money from the Party of regions.
Most likely, Monday, December 19, Specialized anti-corruption Prosecutor will appeal in court with the petition for election measures of restraint for the Chairman of the Central election Commission Mikhail Okhendovsky. His name appears in the published lists of "black accounting" of the Party of regions. It says that the regionals paid for the trip Okhendovsky. The examination proved the authenticity of the signature of the Chairman of the CEC.
Detectives will apply for the appointment of the Stations of the Deposit of 1.2 million UAH, said on the air "112 Ukraine" the head of the Specialized anti-corruption prosecutors Nazar Golodnitsky.
"We expected detectives the petition for election measures of restraint. The petition was received on Friday at 11 o'clock. Detectives petition for election to it of the Deposit of the amounts of the alleged bribes, at the time of the crime is UAH 1.2 million. Therefore, we now study the petition, I think Monday will go to court with him," said the Prosecutor.
We will remind, Okhendovsky handed a notice of suspicion at the airport "Borispol", where he flew in from Kyrgyzstan, after observation of the elections and the referendum. Together with information on the suspect handed a call on interrogation. But Okhendovsky has not arrived for questioning at the NAB for personal reasons, the date of the interrogation was postponed. The next time he arrived for questioning.
Requires stations to close an open criminal case against him.
Comments
comments