In Kiev because of the opening of the main Christmas tree will temporarily change the routes of some trolley buses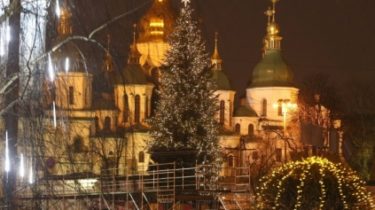 In Kiev because of the opening of the main Christmas tree will temporarily change the routes of some trolley buses
© UNIAN
The main tree will be lit on the feast of Nicholas.
Tomorrow, 19 December, from 15.30 to 20.00 trolleybus 6, 16, 18 will change the itinerary in connection with the preparation and holding of cultural and art project "the Main tree of the country" sophiiska and Mykhailivska squares.
The movement of trolley buses of a route №6 will be organized from Minsk array to the metro station "Lukyanivska"; the movement of trolley buses of routes № 16 and №18 – from the street. Schuseva street Soshenko to Vozduhoflotsky overpass, reports the press service of Kyiv city state administration.
Read also: In Kiev on Sofievskaya square and brought the main tree
Earlier it was reported that in Kiev from December 20 will continue the four trolleybus routesand one route will be closed. It is associated with world Bank guidelines for optimizing the network of routes of public transport in the capital, improvement of transport service, ensuring non-stop messages of passengers between the several districts of the city.
The main new year tree of the country came to Kyiv with the sounds of trembita
Kiev
Today, 12:09
1 of 3

The capital came to the main tree of the country
© Radio Liberty

1 of 3

Christmas toys cost 29 thousand hryvnias
© Radio Liberty

1 of 3

Christmas toys cost 29 thousand hryvnias
© Radio Liberty
The capital came to the main tree of the country
© Radio Liberty

Christmas toys cost 29 thousand hryvnias
© Radio Liberty

Christmas toys cost 29 thousand hryvnias
© Radio Liberty
Comments
comments