Groysman called the deadline of adoption of the state budget of Ukraine for 2017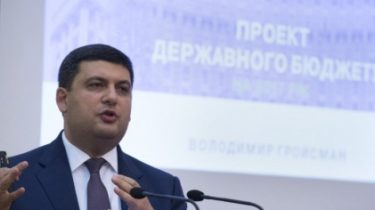 Groysman called the deadline of adoption of the state budget of Ukraine for 2017
© UNIAN
The bill to discuss, agree upon and complement the last three months.
This week the Verkhovna Rada should adopt the law on state budget of Ukraine for 2017.
On this day, December 19, in a video message said the Prime Minister-the Minister Vladimir Groysman.
See also: Parubiy said the new deadline final adopted budget-2017
"This week should be adopted the country's budget by 2017. And it contains clear priorities for development of our state. We hope for a successful vote in Parliament. I am sure that next year we will go quietly, we will continue to establish a normal life in our beautiful country," – said the Prime Minister.
The Verkhovna Rada plans to consider in the second reading the bill on the state budget Thursday, December 22.
Groisman also commented about the nationalization of "PrivatBank". The head of government promises 100 percent state funds protection of customers of financial institutions.
Comments
comments