Groysman promises 100 percent government protection of funds of clients "PrivatBank"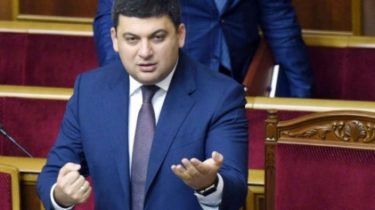 Groysman promises 100 percent government protection of funds of clients "PrivatBank"
© UNIAN
During the transfer financial institution to the state national Bank promises to keep the situation on the currency market.
Yesterday, on December 18, the Cabinet adopted a decision on nationalization of "PrivatBank". This happened due to the fact that "the gap between the formed provisions and credit risk as of December reached nearly 150 billion, jeopardizing the future of the customer service of the Bank."
On this day, December 19, in a video message said the Prime Minister-the Minister Vladimir Groysman.
See also: After the nationalization of "PrivatBank" sell – danyluk
"We took this decision, being guided, first of all, in order to ensure the stability of the banking system and to protect the citizens of Ukraine. First of all we are talking about more than 3 million pensioners, more than 500 thousand students and 1.6 million vulnerable citizens. It is also about more than 3.5 million payroll accounts, service 500 thousand physical persons-entrepreneurs", – said the head of government.
He argues that "the situation with "PrivatBank" could have extremely negative consequences for the entire banking and financial system of Ukraine. Thus, yesterday's decision we have protected nearly 20 million customers, 20 million citizens of Ukraine. And financial stability of our state. And that was our primary task is to act in the interests of the Ukrainian people".
Also read: NBU predicts massive outflow of deposits from "PrivatBank". The hryvnia will be stable, Gontareva
The national Bank recognized the "PrivatBank" insolvent. Now there are representatives of the NBU, Deposit guarantee Fund of individuals ' deposits, the Ministry of Finance.
"This team is technically ensures the transfer of the Bank to public ownership. Owners and management "PrivatBank" has promised to promote this process. Our common task today – to ensure the smooth operation of the Bank in this transition phase, and in the future – to ensure its successful development. Money Bank customers from now on, pass under a 100-percent guarantee of the state. The national Bank during this period will support the stability of the national currency and has to do absolutely all the necessary tools," – said Groisman.
The President of Ukraine Petro Poroshenko also explained why nationalized "PrivatBank".
Details on how will work the "PrivatBank" in the coming days and what will happen to the money of Ukrainians, read on Dnia this link.
Comments
comments