In Svetlodarsk St. Nicholas greeted the children under the sound of explosions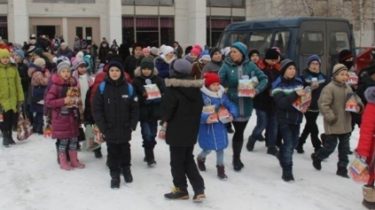 In Svetlodarsk St. Nicholas greeted the children under the sound of explosions
The children received gifts© Facebook/the press-center of staff ATO
The fight takes place just a few kilometers away.
Today, December 19, in the town of Svitlodarsk in the Donetsk region, near which the second night continues heavy shelling of the militants, the children were congratulated with St. Nicholas Day.
This reports the press center of staff ATO.
For children the front area gave a festive concert and gifts – sweets and books.
See also: Soldiers in the hospital told details of the battle on the arc Svetlodarsk
"The kids are laughing and happy. A few kilometers there is a fight… Ukrainian soldiers defending the Donbass and all the children of Ukraine, and the baby smiles and applause "blocked" all the enemy blasts," said an officer of the Department of civil-military cooperation Boris Kutovoy.
Just three days must congratulate 2.5 thousand children living in Svetlodarsk, Bahmut, Lysychansk, Trecce and the plant. At the end of the celebration the children sang together with the participants of the concert the national Anthem of Ukraine.
The video ends with the kids heard there was a powerful explosion.
We will remind, yesterday, December 18, militants have waged a fierce battle with the military forces of the antiterrorist operation in the area of Svetlodarsk arc, in the Donetsk region. The clash continued for more than a day. Ukrainian military took the fight, threw the enemy forces and carried out a counterattack into the flank of the enemy.
According to official figures, killed at least five Ukrainian military, another six were injured, ten people were wounded or injured.
According to intelligence reports, the enemy's losses amounted to at least 25 people were killed and 30 wounded.
More about the situation near Svetlodarsk see the link →
Comments
comments