Military prepared to attack militants tonight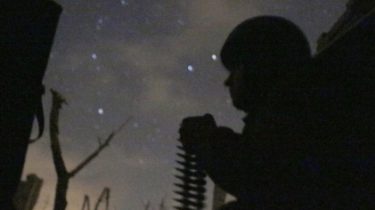 Military prepared to attack militants tonight
© UNIAN
The militants did not abandon their plans to go on the offensive
Because of aggravation at the front today the state's largest losses over the last 5 months. At the headquarters of ATO confirmed the death of five military, 6 wounded and 10 injured and shell-shocked.
According to TSN suffered more: 21 soldier, when journalists brought 3 more people, according to unofficial information, 8 wounded. All because of heavy fighting in Svetlodarskoye arc that is still going on. There fighters are used primarily heavy artillery.
On the front line journalists are not allowed, but the military reported that it was counter-attack.
Read also: MP from the party Lyashko showed fake video from Svetlodarsk arc
"The fact that our military went on the offensive first, I completely refute. Enemy artillery first began training, then went on the offensive," – said the head of the press center of staff ATO Gregory Mazur.
The military are waiting for the hard nights, because according to them, the militants did not abandon their plans to go on the offensive.
"Now comes the build-up of enemy forces, a regrouping of the enemy, we are preparing for another attack," – said the Deputy commander of the brigade APU.
We also learned that six soldiers from Svetlodarsk arc that night was taken to Kharkiv military hospital.
Among them four wounded and two more were injured during the fighting. The military condition of varying severity. According to doctors, their life is not in danger.
Doctors have carried out all the necessary operations. Only one soldier waiting for treatment, the doctors will try to get a sniper bullet, which lodged in the shoulder.
Comments
comments