Poroshenko for the first time explained why nationalized "PrivatBank"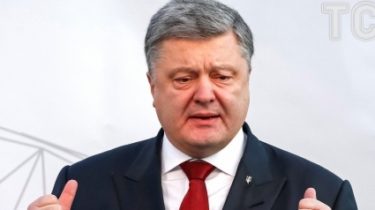 Poroshenko for the first time explained why nationalized "PrivatBank"
© Reuters
The decision to transfer the financial institution to the state adopted late in the evening of 18 December.
The President of Ukraine Petro Poroshenko for the first time commented on the situation surrounding the nationalization of "PrivatBank", the decision which was taken yesterday, December 18, late in the evening.
"I consider it my direct responsibility to explain the steps yesterday and today is implemented by "PrivatBank". Despite the fact that it is a private banking institution, these solutions are not someone's private affair. They directly affect about half the adult population of Ukraine – individuals who are its customers. Exactly as more than 50% of all legal entities registered in Ukraine. Indirectly from the state of Affairs in the Bank depends on the entire financial-economic situation in the country – so it is large, or, as experts say, the system," – said in a statement.
The President noted that "because of this, it cannot be put into the Procrustean bed of the standard technologies for the recovery of the banks. That is why we resorted to an unprecedented decision – to his transition to 100-percent state property. The state takes responsibility and guarantees the customers of "Privat" the inviolability and integrity of their money. To strengthen the protection of depositors "PrivatBank" urgent as I submitted to the Verkhovna Rada a bill which provides additional guarantees for citizens ' deposits in this institution. They are the same as for "savings Bank" for the Bank, which is 100 percent owned by the state."
That is, if the bill is passed by Parliament, it will mean that the state guarantees 100% return of all deposits in "PrivatBank" and "Oshchadbank", and would not limit the number guaranteed 200 thousand UAH.
Details on how will work the "PrivatBank" in the coming days and what will happen to the money of Ukrainians, read on Dnia this link.
Comments
comments