Poroshenko registered in the Verkhovna Rada a draft law on guaranteeing deposits of natural persons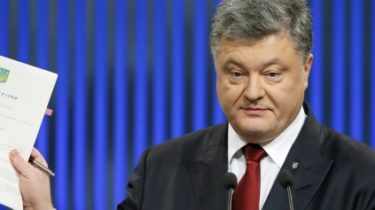 Poroshenko registered in the Verkhovna Rada a draft law on guaranteeing deposits of natural persons
© Reuters
The President has identified the bill as urgent.
The President of Ukraine Petro Poroshenko introduced the Verkhovna Rada a bill on amendments to the law of Ukraine "On banks and banking" regarding the state guarantee of deposits of individuals.
According to information on the website of the Verkhovna Rada, the corresponding bill was registered today, on December 19, morning. The President has identified the bill as urgent. While the text of the bill is missing.
"To strengthen the protection of depositors "PrivatBank" urgent as I submitted to the Verkhovna Rada a bill which provides additional guarantees for citizens ' deposits in this institution. They are the same as for "savings Bank" for the Bank, which is a hundred percent state-owned," said Poroshenko on his page in Facebook.
Read also: Poroshenko for the first time explained why nationalized "PrivatBank"
Note, therefore, the Ukrainians can not worry about their deposits, because the return will be not 200 thousand, as guaranteed by the state, subject to the bankruptcy and the full amount of the investment.
We will remind, in the evening of 18 December , the government of Ukraine adopted a decision on nationalization of "PrivatBank". It is assumed that the state represented by the Ministry of Finance of Ukraine will become the owner of 100% shares of the Bank. It ensures smooth functioning of the institution and preserve the funds of its clients.
"PrivatBank" will be headed by former Finance Minister and one of the top managers in the 1990-ies Oleksandr Shlapak.
PrivatBank was founded in 1992. Is considered a leader in the banking market of Ukraine. According to a study by GFK Ukraine in the third quarter of 2016, with the Bank cooperate 51.4% of Ukrainians – individuals over the age of 16. The main Bank I think, 42.6% of users of banking services to individuals, and more than the subsequent 23 banks together in the rating of Ukrainian banks.
With "PrivatBank" cooperate 56.1% of all legal entities in Ukraine, and 33.5 percent consider it their primary Bank. At the same time 69.7% of the entrepreneurs are also collaborating with the Bank, and of 62.3% consider it their primary Bank.
In "PrivatBank" explained why he agreed to the nationalization.
Comments
comments