The Nationalization Of PrivatBank. Watch press conference of the heads of the national Bank and Ministry of Finance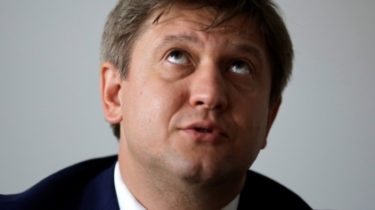 The Nationalization Of PrivatBank. Watch press conference of the heads of the national Bank and Ministry of Finance
© Reuters
The government argues that Mr. Roshi depositors safe and protected by the state.
Finance Minister Oleksandr danylyuk, the head of the NBU Valery Gontareva give a joint press conference about the decision to nationalize Privat.
We will remind, in the evening of 18 December , the government of Ukraine adopted a decision on nationalization of "PrivatBank". It is assumed that the state represented by the Ministry of Finance of Ukraine will become the owner of 100% shares of the Bank. It ensures smooth functioning of the institution and preservation of the funds of its clients.
The Finance Minister said in his post on Facebook that depositors ' money safe and protected by the state. The Bank works in a usual mode.
"PrivatBank" will be headed by former Finance Minister and one of the top managers of the Bank in the 90-ies Oleksandr Shlapak.
PrivatBank was founded in 1992. Is considered a leader in the banking market of Ukraine. According to a study by GFK Ukraine in the third quarter of 2016, with the Bank cooperate 51.4% of Ukrainians – individuals over the age of 16. The main Bank I think, 42.6% of users of banking services to individuals, and more than the subsequent 23 banks together in the rating of Ukrainian banks.
With "PrivatBank" cooperate 56.1% of all legal entities in Ukraine, and 33.5 percent consider it their primary Bank. At the same time 69.7% of the entrepreneurs are also collaborating with the Bank, and of 62.3% consider it their primary Bank.
Comments
comments