What will happen to the dollar and the diagnosis for the hryvnia. Two polar experts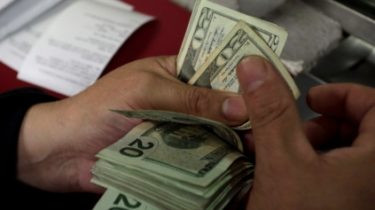 What will happen to the dollar and the diagnosis for the hryvnia. Two polar experts
© Reuters
During the week, the dollar rose and the Euro and the hryvnia has fallen.
On Sunday, December 11, the exchange dollar was at around RS 27. Today, December 18, in Kiev in the sale of it rose in price to UAH 27,10. But the Euro fell from 28,70 28,50 UAH to UAH.
Financial analyst Vitaly Shapran about the surprise warned a week ago in the program TSN.Week. The Americans strengthened the dollar and he pushed and the Euro, and the hryvnia.
"Next week the cash dollar will be sold at 27,10 hryvnia. New year strengthening of the hryvnia will not happen due to the fact that the national Bank buys dollars to replenish its reserves in the interbank market and this may affect the rate of cash dollar," said Shapran.
Thus, the national Bank does not give the dollar fall and keep the high rate.
"Next week dollar will be 27 and even of 26.90 hryvnia. This is the last (legislative) session week, members must adopt a balanced budget with a rate of 27.2 hryvnia per dollar, and a law abolishing the 2% fee to the Pension Fund when buying foreign currency. All of these factors stabilize the hryvnia. The dollar will be stable, because the population now sells more foreign currency than buys – since the holidays, table, gifts," – said Elena Korobkova with the banking Association.
Meanwhile, the NBU produced the national currency exchange "rods" on the Day of St. Nicholas. What are currency exchange rates on 19 Dec, read on Dnia this link.
The dollar and the price of the new year, but experts have predicted the movement of the currency before the holidays
TSN. Week
Today, 22:00
Add to favourites
Today in the capital, selling the dollar was at 27,10 hryvnia, while the Euro fell: from 28.70 to 28.50 cents. Experts predicted further movement of the dollar before the holidays, and TSN conducted an experiment: how to change prices on Olivier compared to last year.
Comments
comments