In Przemysl suggested the suspicion of the poles, who on the March of the radicals shouting "Death to Ukrainians!"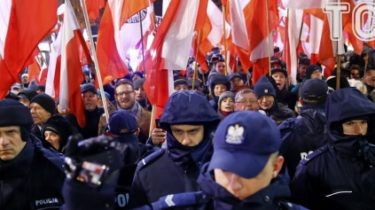 In Przemysl suggested the suspicion of the poles, who on the March of the radicals shouting "Death to Ukrainians!"
© Reuters
To the man threatens till 5 years of prison.
In Poland have charged a 30-year-old resident of Sochi for shouting anti-Ukrainian slogans on marches in Przemysl, which was held on 10 December.
About it, referring to the Prosecutor's office, reports Gazetaprawna.pl.
As noted, a suspect of inciting hatred on ethnic grounds, Adrian N. faces from 3 months to 5 years of imprisonment.
According to the Prosecutor Martha Pentkowski, the pole admitted that he participated in the March, however, categorically denies that he shouted slogans: "Polish Przemysl, Lviv" and "Death to Ukrainians!"
"Given the fact that the suspect does not recognize that shouted "Death to Ukrainians," and the witness identified him and confirmed that he shouted, it will be necessary to conduct a voice identification on a recording", – said the Prosecutor of Przemysl.
In turn, the organizers of the March said that made the video is a provocation and expressed doubts about the authenticity of the record itself.
See also: In the network appeared the new video from Marsha "Eaglets" in Przemysl with the anti-Ukrainian appeals
Recall that in Polish Przemysl on 10 December , the participants of the "March of the eagles peremyshlanska and Lviv", which was held under the patronage of the mayor of the city, shouting "Death to Ukrainians". When the column passed by the Ukrainian people's house, one of the marchers shouted this phrase in Polish.
The event was a right-wing organization: Sapolsky youth and National-radical camp, an informal group of "Patriotic Przemysl" and the establishment of culture Subcarpathian Voivodeship Cultural center in przemyśl. The "Eaglets" were called soldiers from the Polish side, the participants of the Polish-Ukrainian war in Galicia in 1920. It is also noteworthy that the patronage over the March took, in particular, the mayor of Przemysl Robert Homa.
Comments
comments