Local honorable in Kropyvnyts'ke tried to give an anti-award "Wool Year"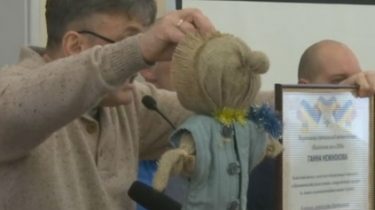 Local honorable in Kropyvnyts'ke tried to give an anti-award "Wool Year"
"Nominee" has left the meeting so she gave the doll in the jacket.
Negative award "Wool Year" for the second time awarded the public organization in Kropyvnyts'ke those who according to activists, fanned separatist sentiment in the city, says TSN.16.45.
This time in the main category was won by the Deputy of the city Council from the "Opposition bloc" Anna Nizhnikova.
Activists recalled that it was at her suggestion, the city Council still has the name of Kirovohrad, and not Kropiwnicki, what was supposed to be after the renaming of the city itself.
The jury anteprime brought to the session hall of the main prize – the doll in the jacket and tried to hand it before the meeting. However, she quickly disappeared from his workplace.
"Anna Nizhnikova is for her. And you know what, it not offer to rename the city Council in Krapivnitskaja city Council and you, the members, druzhnenko voted," – said the activist.
Comments
comments