"PrivatBank" reported on the first day of work after the nationalization of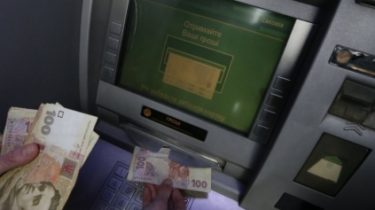 "PrivatBank" reported on the first day of work after the nationalization of
© UNIAN
The Bank said about reducing the volume of cash withdrawals.
Today, December 20 branches, ATMs and services "PrivatBank" operate in a stable mode.
As at 9.00 a.m. on 20 December customer service 2 350 branches of the Bank, reports the press service of "PrivatBank". More than 7 thousand ATM has been downloaded in full.
It is noted that ensures timely replenishment of the ATM network at the expense of cash at the box office, and an additional 15 billion that had been allocated to the NBU.
See also: the Nationalization of "PrivatBank" was conducted by the Deputy Gontareva, which is bugged
"Yesterday, the NBU supported Bank liquidity in the amount of 15 billion UAH, the Bank will continue collection of ATMs. All owners of card accounts in PrivatBank can withdraw cash. Following yesterday's transition day the volume of cash withdrawals on the cards in PrivatBank ATM network decreased compared to the previous. This suggests that the risk of panic is minimized," – said the first Deputy Chairman of the National Bank of Ukraine Yakov Smoliy.
According to the report, all the credit limits on the accounts, overdrafts, limits of guaranteed payments and business installments will be recovered in full after the launching of the new Board.
We will remind, the decision on the nationalization of one of the largest Ukrainian banks received on Sunday, December 18. The state now owns all 100% shares. She is represented by the Ministry of Finance guarantees the safety of customer funds. For their protection the President of Ukraine Petro Poroshenko has submitted to Parliament a draft law on additional guarantees to depositors "PrivatBank".
We will add that today, 20 December, at nine o'clock in the morning now in a state of "PrivatBank" promised to resume operations for legal entities.
Comments
comments