The nationalization of the "PrivatBank" was conducted by the Deputy Gontareva, which is bugged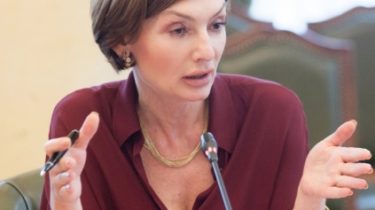 The nationalization of the "PrivatBank" was conducted by the Deputy Gontareva, which is bugged
© National Bank of Ukraine
Gontareva sees a connection between nationalization, listening Rozhkova and rallies at the NBU.
Between listening to the Deputy head of the National Bank Ekaterina Rozhkova, rallies under the national and the nationalization of "PrivatBank" may be a connection.
This was stated by the head of the NBU Valery Gontareva, reports Ukrainskaya Pravda with reference to Ukrainian news.
See also: What will happen to the money of Ukrainians in the nationalized "PrivatBank". The responses from the Ministry of Finance and the NBU
"Rozhkov led such a large project, like the nationalization of "PrivatBank". You've seen a lot of insinuations about Gontareva and the red pamphlet (the pamphlet that was circulated by Deputy Sergei Taruta on the activities of the NBU), "paid" rallies (under the walls of the NBU). Can understand why it was done," — said Gontareva.
Her Deputy, Ekaterina Rozhkova, in turn, appealed to the Prosecutor General and SBU with a request to check the legality of the bugging.
"Formal charges did not show me one, I think this is manipulation, and leakage of information is considered as a pressure on the NBU and a discredit attempt. I wrote to the GPU and the security Service statement about who and on what basis were tapping my phone and who is allowed loose interpretation of my statements," — said Rozhkov.
We will add that in November the media was the alleged telephone conversations Rozhkova with management and shareholders "platinum Bank", where she directed the management to a career in NBU.
Supposedly the Chairman of the Board of platinum Bank" Dmitry Zinkov and businessman Boris Kaufman sought bankruptcy "Bank Mikhailovsky".
In late October, investigators of the Main Directorate of the National police in Kiev raided the place of residence of Ekaterina Rozhkova. They were held in the framework of the investigation of bankruptcy of the Bank "Michael". The national Bank considered these actions pressure.
At the beginning of December it became known that MR.ABU checks phone conversations allegedly belonging to the Deputy head of the NBU Ekaterina Rozhkova.
Comments
comments