Extreme took a dizzying video of your flight on the drone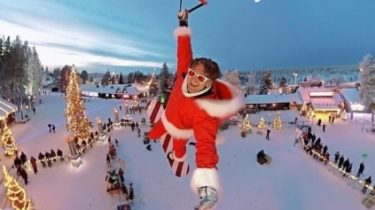 Extreme took a dizzying video of your flight on the drone
Casey Neistat© instagram.com/caseyneistat
The video has been viewed more than 2.6 million users.
American videoblogger Casey Neistat made an amazing Christmas greeting for YouTube users – a man took a ride on a snowboard that is attached to the drone and took it up into the sky.
Dangerous stunt extreme wearing a suit of Santa Claus. The video was filmed in Finland. First, Neistat rode through the snowy streets on a snowboard and welcomed people. He then decided to complicate the task, and rose into the sky with a huge drone over huge snowy slope, sending into the air a plume of colored smoke.
Video for the day looked 2.6 million users. Channel Neistat there is a video about how they were preparing for his unusual Christmas greeting, and on the page in Facebook – a postcard, filmed in the format 360 degrees.
Comments
comments