The spoiled – the new cute. Brutal naked Santa trotted uscom for charity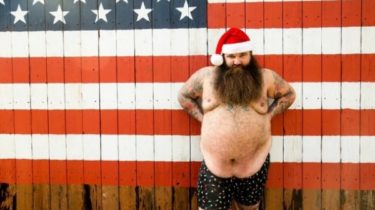 The spoiled – the new cute. Brutal naked Santa trotted uscom for charity
Curiosities
Today, 19:32
1 of 9

Calendar with brutal Santa
© facebook.com/ArtisticPhotographybyTami

1 of 9

Calendar with brutal Santa
© facebook.com/ArtisticPhotographybyTami

1 of 9

Calendar with brutal Santa
© facebook.com/ArtisticPhotographybyTami

1 of 9

Calendar with brutal Santa
© facebook.com/ArtisticPhotographybyTami

1 of 9

Calendar with brutal Santa
© facebook.com/ArtisticPhotographybyTami

1 of 9

Calendar with brutal Santa
© facebook.com/ArtisticPhotographybyTami

1 of 9

Calendar with brutal Santa
© facebook.com/ArtisticPhotographybyTami

1 of 9

Calendar with brutal Santa
© facebook.com/ArtisticPhotographybyTami

1 of 9

Calendar with brutal Santa
© facebook.com/ArtisticPhotographybyTami
Calendar with brutal Santa
© facebook.com/ArtisticPhotographybyTami

Calendar with brutal Santa
© facebook.com/ArtisticPhotographybyTami

Calendar with brutal Santa
© facebook.com/ArtisticPhotographybyTami

Calendar with brutal Santa
© facebook.com/ArtisticPhotographybyTami

Calendar with brutal Santa
© facebook.com/ArtisticPhotographybyTami

Calendar with brutal Santa
© facebook.com/ArtisticPhotographybyTami

Calendar with brutal Santa
© facebook.com/ArtisticPhotographybyTami

Calendar with brutal Santa
© facebook.com/ArtisticPhotographybyTami

Calendar with brutal Santa
© facebook.com/ArtisticPhotographybyTami
The proceeds for the calendars of funds will be sent to veterans.
A charismatic American with a pot belly Joshua Varazze became the star of the Christmas holidays.
A man appeared in front of the camera photographer Tami Beers in the brutal image of Santa Claus – he posed bare-chested in shorts and festive hat Christmas wizard.
See photos: Coach of "Shakhtar" became Santa Claus in a Christmas photo shoot of the club
Among the attributes of the shooting was a sign saying "Naughty is the new nice" ("the Spoiled – the new cute").
Photo Joshua are used for a charity calendar – the money sent for aid to veterans, writes Metro.
We will remind, in Paris, presented the 44th edition of the Pirelli calendar, which this year is dedicated to women with a twist. Some of the celebrities who took part in the filming, long 40. However, they immediately agreed to pose without makeup and without photoshop.
Comments
comments