What is the budget for dawn took the people's representatives. Key figures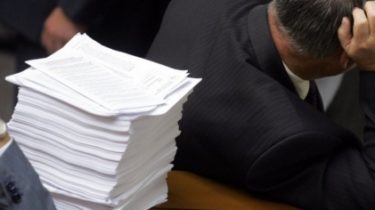 What is the budget for dawn took the people's representatives. Key figures
© UNIAN
The minimum wage will increase in two times – up to 3,2 thousand UAH.
Today, 21 December, about five o'clock in the morning 274 MPs adopted the law on the state budget of Ukraine for 2017.
This is stated in the plot of TSN.Ranok.
Deputies considered the budget last night because, according to the authors of the bill, it must make before the New year. They have only three meetings, so the choices are in a hurry. Representatives of the budget Committee of counsel in the offices of other MPs – the breaks – go for a walk. Finally, the hall will wear the budget. And we already know who will and who will not.
"Destroys the economy and the finances of the state. Who will vote for this budget?" – said the MP and the leader of "Batkivshchyna" Yulia Tymoshenko.
"It's two kinds of budget: a good budget – when it is Prime, and poor budget when it is not Prime. I am sure that the dawn meets with a new budget for 2017, and even Julia can't stop", – said the people's Deputy Alexey Goncharenko from "Blok Petro Poroshenko".
Budget agitates the faction "Block of Petro Poroshenko" and "popular front". The deputies even hinted that the Parliament currently the President of Ukraine Petro Poroshenko and former Prime Minister Arseniy Yatsenyuk, who also decided not to have sex for the sake of a positive vote.
Also read: the Council authorized the additional guarantee to depositors of "Privat"
"The country, citizens who are socially vulnerable, will be fully provided with subsidies. Nearly 50 billion hryvnias will be received by the people directly. Vote for the budget, taking responsibility for the future of the country", – said Maxim Kuryachii the people's Deputy from "Blok Petro Poroshenko".
"It will be a budget of growth. The budgeted increase in salaries of teaching staff by 50 percent," assured the leader of the faction "people's front" Maxim Bourbaki.
Praises the budget and Prime Minister Vladimir Groisman: minimum wage will increase to 3.2 thousand UAH, and in the regions will give more money.
"You will see hundreds of millions, if not billions in order for you to build schools, kindergartens, roads," – said Groisman.
Like last year, spared no means on defense. Remembered about lifeguards – their salary rises sharply, there will be at least 5 thousand UAH.
Against the budget vote, "Batkivshchyna", "Opposition block", most of the "Samopomich" and some SMCS. The rest of it.
As promised, the budget adopted before dawn. Already at five in the morning the deputies to disperse some sleep. To do this, even canceled today's session day.
Alexander Shilko
Comments
comments