Avenue Shukhevych in the capital will be: the city Council has not touched even the speech of the son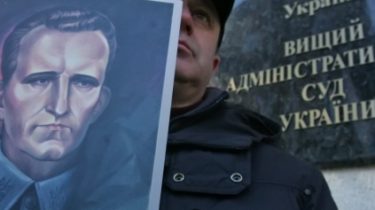 Avenue Shukhevych in the capital will be: the city Council has not touched even the speech of the son
© UNIAN
For decision-making is not enough on 20 votes.
Kyiv city Council has renamed Prospekt Generala Vatutina Avenue Roman Shukhevych.
For the adoption of the draft decision voted 41 deputies with the required minimum number of 61, reports espresso.
Read also: In Kiev, Moscow street want to rename in honor of the fighters of "Godzilla"
In the beginning of the meeting, before the deputies of the city Council was made by MP from the faction of the Radical party Yuriy-Bohdan Shukhevych with the request to support renaming, the deputies listened to it standing. The draft decision was unanimously supported by the city Council of the faction "Freedom" and "Samopomich".
We will remind, in the summer of Moskovsky Avenue in Kyiv was renamed the prospect of Stepan Bandera.
Comments
comments