"Foreign policy will not be the same as before," – Klimkin about the murder of the Russian Ambassador in Ankara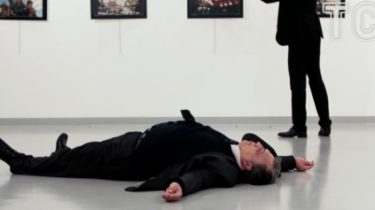 "Foreign policy will not be the same as before," – Klimkin about the murder of the Russian Ambassador in Ankara
© Reuters
The aggressive actions of the Russian Federation is not a reason for killing people.
The aggressive foreign policy of the Kremlin was the psychological and emotional trauma for millions of people. However, this argument does not justify the murder of the Russian Ambassador in Turkey Andrey Karlov. This broadcast of "Breakfast with 1+1" said the Minister of foreign Affairs of Ukraine Pavlo Klimkin.
See also: the U.S. Embassy suspended operations in several Turkish cities after attempting a night attack in Ankara
"What Russia has done… Look at the Donetsk airport or Aleppo. After that foreign policy is the same as before, will never be. And I'm really not exaggerating. And for millions of people, it is, in fact, psychological and emotional trauma. And here it will remain for all generations. That is, the impact will certainly be, but this does not justify the Ambassador." – said Klimkin.
We will remind, on December 19 in Ankara was killed by Russian Ambassador Andrei Karlov. The diplomat was gunned down with a pistol shot from behind during the opening of a photo exhibition in a Museum in Turkey.
He was attacked by a Turk mevlüt MERT Altintas. 22-year-old man was in the police, but, according to some, was dismissed in the summer, after a coup attempt. Turkey has detained five relatives and a few friends killer. Himself the assailant, whom police have eliminated, had to say that this is revenge of Russia in Aleppo.
Foreign Minister Pavlo Klimkin – when is a visa-free regime with the EU
Snidanok 1+1
Today, 09:29
Add to favourites
In Snidanku Minister of foreign Affairs of Ukraine Pavel Klimkin told when to expect a visa-free regime with Europe and what is now the diplomatic relations of Ukraine with Russia. Also talked about the tragedy in Berlin. There are fears that one of the Ukrainians died.
Comments
comments