Users touched video 10-year-old girl with autism, who performed the legendary song "Hallelujah"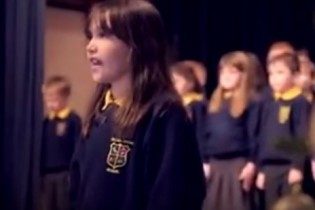 Users touched video 10-year-old girl with autism, who performed the legendary song "Hallelujah"
© YouTube
The video attracted more than 700 thousand views in a few days.
10-year-old Kayleigh Rogers from Northern Ireland living with autism, performed one of the variations of Leonard Cohen's "Hallelujah" for performances with the school choir. Video became viral within a few days and gathered more than 700 thousand views on Facebook.
About it reports "Interfax".
Kaylee suffers from autism and attention deficit disorder and hyperactivity. She started to develop confidence.
According to the Director of the school girl, for a child who cannot read at all in the classroom, to sing the song in front of a crowd is incredible.
See also: Johansson, Witherspoon, and McCartney sang a Christmas song a Cappella
Initially a video posted by the father of one of the boys in the choir, writing that he was proud of his child. He also wrote that he was impressed by the soloist of the choir.
Kaylee, in turn, told ITV that she really wanted to sing and she was amazed that the video received so much attention.
Earlier, the extremal shot a terrific video of your flight on the drone. Video for the day looked 2.6 million users.
Comments
comments