In Kiev the night began to smash the Kiosks near the metro station "Polytechnic Institute"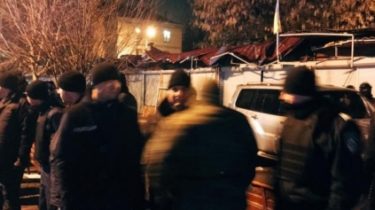 In Kiev the night began to smash the Kiosks near the metro station "Polytechnic Institute"
© facebook.com/ikrussss
At the scene there were skirmishes.
On the night of December 22, unknown persons broke a few Kiosks near the metro station "Polytechnic Institute" in Kiev.
Video of the incident published journalist Vasily Apasov.
Against attackers made entrepreneurs-the owners of the stalls, between the parties clashed. At the scene are also police and paramedics.
About half of the third night blogger Alexander Barabashka wrote that the confrontation ended.
We will remind, on the night of December 15, unknown broke the Kiosks near the metro station "Obolon". The attackers asked the dealers to leave the premises and then walked through the booths with special equipment. It was also demolished an extension to the restaurant on the street Theodore Dreiser troyeschina.
In early December, near the metro station "Polytechnic Institute" was demolished nearly two dozen Kiosks.
20 Dec disgruntled entrepreneurs brought the walls of the KSCA the wreckage of their stalls and piles of garbage.
Rally owners Mafov: 2 people went to the hospital because of a confrontation with the police
TSN. 19:30
20 Dec, 22:20
Add to favourites
More than a hundred Mafov owners came to the peaceful rally under the walls of city hall with a demand to stop the destruction of markets and to investigate the beating of private entrepreneurs during the demolition of the kiosks near the metro station "Polytechnic Institute". A protesters brought the garbage and the debris from the destroyed Kiosks and tried to set up the tent. The skirmish began after police ousted the protesters from the building of the KSCA.
Comments
comments